Co-Impact
Collaborating to Change Systems—and Lives
As founding director of the Giving Pledge, Olivia Leland asked billionaires to publicly dedicate the majority of their wealth to philanthropy.
---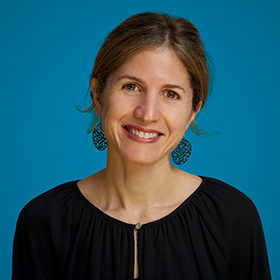 Olivia Leland is not afraid to think big—and ask others to do the same. As founding director of the Giving Pledge, she asked billionaires to publicly dedicate the majority of their wealth to philanthropy. Many were eager to comply. But Leland soon discovered that pledging to give and knowing how follow through on that pledge are two different things.
She recalls one philanthropist telling her, "There's so much discussion of big bets…and yet, if I need to write a check, I don't know where to do that."
That philanthropist was not alone. Leland found profound gaps—not only between philanthropists and opportunities for impact, but also between social-change leaders and the funding and support those leaders need to realize large-scale change.
Today, Leland is attempting to fill those gaps with her new global collaborative, Co-Impact. In this pioneering example of the emerging collaborative philanthropy field, Leland is gathering a coalition of powerful donors to scale proven social innovations and to achieve systems-wide change that improves the lives of millions of people around the world.
Bridge builders unite
Leland left the Giving Pledge in 2014 to find a way to connect would-be funders with the big-bet opportunities they sought. With an idea in mind, she reached out to William Foster and a team from The Bridgespan Group. Their first conversation turned into biweekly phone calls and, ultimately, an enduring partnership.
"What was quite remarkable was [Bridgespan's] belief in this very early stage idea and its willingness to provide guidance," says Leland. Drawn to Bridgespan's writings on transformative scale, audacious philanthropy, and big bets, she appreciated the organization's deep understanding of philanthropy, as well as its expertise in scaling nonprofit impact—the very areas she was trying to bridge.
Meanwhile, Foster saw in Leland a gifted leader. "[Olivia] has a rare set of talents in her ability to balance strategic thought with relationship building, and within relationship building, strategic relationships with key leaders on the ground," says Foster, who was impressed with Leland's dedication to her endeavor. "She was just all in."
Finding the fulcrum
When Bridgespan started working more formally with Co-Impact, it provided strategic guidance, as well as manpower while Leland built her team. "With most early-stage efforts, there's always a lot of different things you could do," says Leland. She credits Bridgespan with helping her set priorities and keeping the Co-Impact team "laser-focused" on what was most important.
The resulting collaborative is classic Leland—offering big solutions to big problems. Co-Impact unites funders and program leaders around key levers, or "fulcrum points," that can lift an entire system. "It's not just about scaling an individual organization," she explains. "It's [looking at] what can we do in partnership with government and other actors to reach millions and get to national scale or beyond."
Not your average portfolio
In January 2019, Co-Impact announced its first round of five long-term grants totaling $80 million—and promising life-changing outcomes for women, men, and children in low- and middle-income countries around the world. The chosen grantees aim to:
Give every rural and remote community in Liberia access to community healthcare workers;
Provide training, mentoring, and seed capital to help families in India and Latin America earn income and build a path out of extreme poverty;
Equip local health workers in India and beyond with training to diagnose and treat complex medical conditions such as tuberculosis, Hepatitis C, and HIV;
Improve education outcomes in multiple African countries by grouping children according to learning level rather than age; and
Transform mental health policy and practice to mitigate rising depression and suicide rates in India and Kenya.
Co-Impact selected these recipients from an initial pool of 250 candidates. Bridgespan helped vet the candidates and worked with most of the recipients to help them prepare for a systems change grant of this size and nature. The final set includes a mix of well-known and little-known organizations.
Leland has attracted a diverse international donor group. For starters, the organization is hosted by New Venture Fund and supported by the Rockefeller Foundation in London and New York. Other donors include Bill and Melinda Gates as well as philanthropists and foundations in Australia, Dubai, India, Singapore, Switzerland, the United States, and elsewhere—comprising a powerful global community that is actively pooling resources, sharing ideas, and learning from one another.
A higher bar for philanthropy
Now, Leland and her team have rolled up their sleeves and are working to support their grantees as they carry out the big jobs in front of them. "To be able to provide that additional support over the longer term and in an aligned way…is really rare," she says, citing Bridgespan's findings that just 20 percent of grants to nonprofits come with support beyond funding.
As Leland pushes forward, Foster is excited to see where she goes. "She's got a higher bar for what this philanthropy's going to do," he says.
Betting Big on Liberia
When Bridgespan partners Nidhi Sahni and Jan Schwier set out to work with Liberia's National Community Health Assistant Program to plan for a possible Co-Impact grant, they understood the perils of such an investment. Formerly with the International Finance Corporation, Schwier specialized in sub-Saharan Africa and considers Liberia as "one of the most challenging places."
But the program, spearheaded by the impressive nongovernmental organization Last Mile Health (LMH) and in partnership with Liberia's Ministry of Health and other organizations, was already making progress in training and placing community health assistants (CHAs) in rural Liberia. A grant from Co-Impact could ensure health services for all Liberians.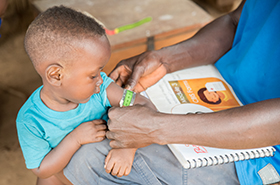 Schwier was excited. "To bring it to a point of completion—I thought that was just a really exciting prospect to try to aim for in a really difficult place, where all the odds of being successful kind of point against you," he says. Bridgespan's job was to make sure the odds weren't too great and success was possible.
The Bridgespan team traveled to Liberia to assess the risks. "Doing this in a place as fragile with so much uncertainty…can we give [Co-Impact] the reassurance that this is a smart choice?" asked Schwier. But after considering the conditions for economic growth, government stability, and other factors, the team was encouraged. One point of reassurance: improving community healthcare has been one of the Liberian president's top priorities for some time.
To help seal the deal, the Bridgespan and LMH teams worked through the mechanics of funding the coalition in a way that would be simple enough for Co-Impact but also support the many players who were coordinating to reach every mile of Liberia's rugged geography.
Although LMH had been working successfully in Liberia for some time, LMH CEO Raj Panjabi valued Bridgespan as a partner in the project. "The [Bridgespan] team rolled up their sleeves to work with us hand in hand," Panjabi says. "They pushed us to think more long-term and helped us amplify our work's impact well beyond the scope of this project—which ultimately deeply influenced our organizational strategy."
In 2018, Co-Impact made its first funding decision: a five-year $20 million grant to the CHA program. Once fully scaled, the program will deploy more than 4,000 CHAs to bring health services to 1.2 million people in remote Liberia.
Created: May 2019