Memphis "Teacher Town"
Collaborating to Improve Low-Performing Schools
Watch Video
Through a high-stakes donor collaboration, Memphis' education leadership looked to create a model for schools everywhere.
---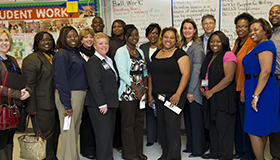 School district superintendents Dorsey Hopson and Chris Barbic recently announced a bold goal: to make Memphis "Teacher Town, USA." They hope that Memphis will be to teaching what New York City is to banking and what Silicon Valley is to technology. The need to transform education in Memphis is clear and urgent. Across Tennessee, 30,000 students attend Priority Schools—those ranked in the bottom five percent in the state in terms of academic achievement—and 68 out of 80 of those schools are in the Shelby County school district, which includes Memphis. Among Priority School students, fewer than one in six is proficient in reading and math, and only four percent graduate ready for college. So they have set a single goal for Memphis: to move the bottom five percent schools into the top 25 percent in five years.
District leaders agree that the cornerstone to achieving such an ambitious goal will be to attract and retain many more top-rated teachers—indeed, they estimate more than 1,000 will be needed in the next five years. Though public education has yet to achieve a turnaround effort of this magnitude, the conditions are ripe for success in Memphis.
What's happening in Memphis illustrates a high-stakes donor collaboration, in which a group of funders pool time and resources to help solve social sector problems too big to tackle alone. Such collaborations place results ahead of organizational or individual recognition, and involve creating a shared, multi-year vision. For Memphis-based funders, this turnaround effort has created a once-in-a-generation opportunity to collaborate with the district, with one another, and with the community to transform the local public education system. With resources already in play from federal Race to the Top, statewide Achievement School District (run by Barbic), Shelby County's Innovation Zone and major foundations, together, the Hyde Family, Poplar, and Pyramid Peak foundations launched an additional multi-year investment of more than $100 million to deliver on the promise of making Memphis "Teacher Town, USA."
In May 2013, the funders—in partnership with Barbic and his leadership team from the Achievement School district—convened 65 district school leaders, charter school operators, local universities, nonprofits that recruit and develop teachers, and civic engagement associations to think through how to make Memphis the best place in America for great teachers.
The event, deep engagement with stakeholders, and continuing analyses of the issue have shaped the development of a portfolio of multi-year investments to support rich pipelines of teachers and principals to serve in Memphis Priority Schools. Bridgespan teams worked with Memphis funders (see "Local Philanthropists Work Together to Transform Public Education") to find common ground and to help local leaders chart the path towards achieving the ambitious goal.
Photos and video courtesy of Teacher Town, USA