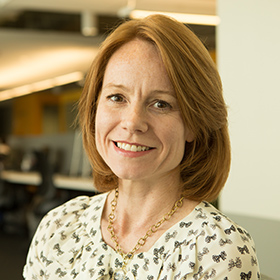 Katherine (Kat) Kaufmann
Partner, Boston
---
What I care about: Every child should arrive at her first day of formal schooling fully ready to learn and thrive. Brain science, social science, and our experience as educators, caregivers, and parents tell the same story: the investments that we make in growing bodies, brains, and relationships have a trajectory-setting impact on a child's life. They are our youngest and most vulnerable citizens, and caring for them equitably is our moral imperative.
What I bring to this work: My family told sea stories and sang at the dinner table. We read voraciously and grew a Victory Garden. After joining the Navy, I was just the sixth woman to serve on board the aircraft carrier Dwight D. Eisenhower, where I met and worked alongside people I would have never met otherwise.
An undergraduate thesis on feminist cultural change and a graduate degree in organizational strategy led me to Bridgespan. After fifteen years of working alongside inspired and passionate social sector leaders, and as a mother of three, I have never been more hopeful that we are on the path to equitable outcomes for our youngest children. Yet there is much work to do.
My favorite projects: Impossible to choose! I have had the privilege to work with the amazing leaders of FamilyConnects, HealthySteps, ChildFirst, All Our Kin, 10,000 Women, and MENTOR. A particular highlight was working with Governor JB Pritzker to publish an early childhood funder guide and working with a group of national early childhood funders to structure breakthrough investments in kindergarten readiness. There is nothing more invigorating than walking alongside passionate, impatient, and caring leaders who are trying to change the world.
My expertise: Strategy, Early Childhood, and Funder Collaboratives.
What I do outside the office: Adventures with my husband and three kids are my daily joy (and logistical puzzle!). A great weekend includes early morning yoga, breakfast with a friend, time on the soccer or baseball sidelines, quiet contemplation (and belting out hymns!) in church, and lingering over dinner with our friends.
Education: I earned my MBA from Harvard Business School in 2001, where I was a Baker Scholar, and graduated magna cum laude from Harvard University with a BA in social studies.
Publications: