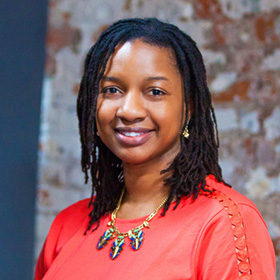 Allana Jackson
Partner and Head of Boston Office, Boston
---
Allana Jackson is a partner and head of The Bridgespan Group's Boston office, where she works both with funders of social change and nonprofit organizations. Across both client types, Allana helps develop strategies for significant scaling of impact with an emphasis on creating more equitable systems. With nonprofits, Allana focuses on developing pathways to transformative impact and building organizational capacity to execute. Her experiences cover fields including: education, criminal justice reform, and youth development. With funders, Allana supports the design of philanthropic collaborations and the structuring of big bet investments.

Allana has led recruitment and hiring of incoming staff for the Boston office since 2017. In that role, Allana helps to continually improve Bridgespan's efforts to build a high-quality and diverse team.

Prior to joining Bridgespan, Allana was a manager at Bain & Company in its Consumer Goods & Retail Practice where she helped clients with a range of issues including organizational effectiveness, growth strategy, and mergers & acquisitions.

In addition to her work at Bridgespan, Allana serves on the Board of Directors of Stand for Children and the Branch Alliance for Educator Diversity. Allana earned her BA from Harvard University and her MBA from the Kellogg School of Management. A native of Atlanta, Allana currently lives in western Massachusetts with her husband and two children.