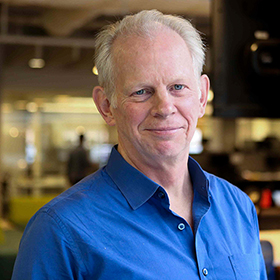 Bill Breen
Editorial Director, Boston
---
Bill Breen is an editorial director in the Boston office. He works with Bridgespan teams to bring their research and insights to life in feature articles, blog posts, and other media. His collaborations include "
How to Bet Big on the American Dream
" (The Atlantic); "
'Billion Dollar Bets' to Create Economic Opportunity for Every American
" (Bridgespan.org); "
Is Your Nonprofit Built for Sustained Innovation?
" (Stanford Social Innovation Review); "
How Field Catalysts Galvanize Social Change
" (SSIR); "
Why Indian Nonprofits are Expert at Scaling Up
" (SSIR/Impact India); and "
3 Ways to Make America's Economy Great Again
" (TIME).
Prior to joining Bridgespan, Bill co-authored
Brick by Brick: How Lego Rewrote the Rules of Innovation and Conquered the Global Toy Industry
(Crown Business)­, which
Forbes
and
strategy + business
selected as one of the year's ten best business books;
The Responsibility Revolution
(Wiley: Jossey-Bass)—it made
Inc.
magazine's top ten list of books on mission-driven business; and
The Future of Management (
Harvard Business Press
)
, which the editors of Amazon selected as the year's best business book.
Bill was the founding senior editor of the business monthly
Fast Company
, which went on to win the National Magazine Award for General Excellence. Bill edited
Fast Company
's back-of-the-book sections, conceived and launched the magazine
's
special issues on design and leadership, and wrote many feature articles on innovation, competition, creativity, and personal growth.
Bill previously edited a national magazine on environmental issues,
Garbage
, which featured one of the first regular columns on corporate social responsibility.
The New York Times
judged
Garbage
"a wonderful publication"; from
The Boston Globe
: "issues new challenges to conventional eco-wisdom."
Bill holds a BA in English from Colorado College and an MA in Irish Literature from University College Dublin.