Chronic underfunding of India's nongovernmental organizations (NGOs) acts as a brake on their ability to grow programs to reach more communities and individuals in need. New research from The Bridgespan Group describes the magnitude of what one NGO leader called "systemic deprivation." The research concludes that Indian funders broadly share practices that inadequately fund NGOs' true costs, rendering the sector perpetually subscale.
For the most part, funders prefer to write checks for program support and show little interest in fully funding critical nonprogram-related expenses. Those include indirect costs associated with shared administrative or support functions, capacity building expenses associated with organizational growth, and reserves needed to sustain the organization in times of revenue shortfall or unforeseen shocks. Several stakeholders described the typical funder mindset as anything that goes outside of program costs does not contribute to impact.
Advocates for change have been hindered by what one Indian funder called "a serious shortage of evidence." To address this shortage, Bridgespan conducted a survey of 388 NGOs representative of the sector, and a financial analysis of 40 leading and relatively well-funded NGOs. Our research revealed a clear pattern of chronic underfunding leading to severe financial stress.
The financial analysis confirmed what we have found in similar US studies: no single indirect-cost rate fits all NGOs.1 Indirect costs ranged from 5 percent to 51 percent of total NGO costs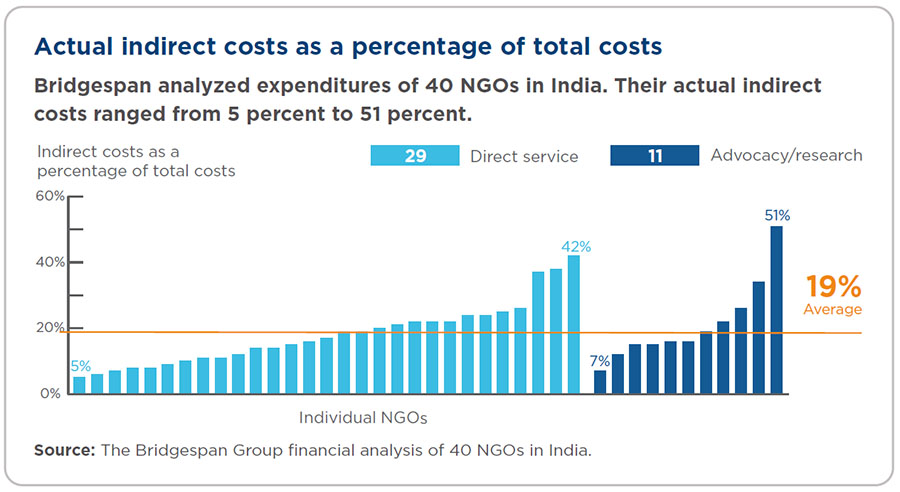 Eighty-three percent of survey respondents reported struggling to secure coverage of indirect costs.
More than half of the survey respondents reported having fewer than three months of reserves.
Half of survey respondents reported no operating surplus for the past three years.
While our research shows that NGOs investing in organization development are able to scale faster, only 18 percent of the survey respondents said they invest adequately in organizational development.
Certain NGOs face greater challenges than most. For instance, 70 percent of NGOs led by members of the Dalit, Bahujan, or Adivasi (DBA) communities have not reported any operating surplus in the past three years, compared to 45 percent for non-DBA-led NGOs.
Sixty-one percent non-metro and rural NGOs reported fewer than three months of financial reserves, compared to 51 percent of NGOs based in eight major cities.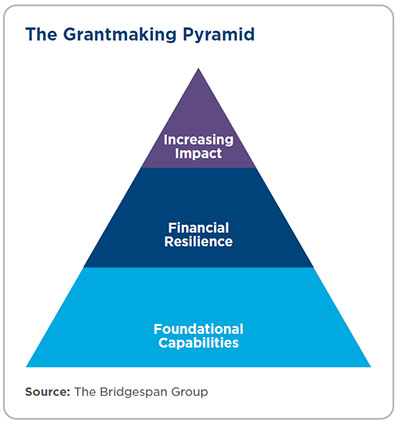 Changing the practices that lead to these results requires a different approach to grantmaking. In search of a solution that supports both strong programs and strong organizations, Bridgespan developed with the Ford Foundationa simple Grantmaking Pyramid that reframes how funders and their grantees can think about building successful, resilient organizations.
Like the pyramids of old, ours rests on a sturdy foundation that builds upward toward an impact goal. First, NGOs need to build strong foundational capabilities, such as strategic planning and leadership development. Second, NGOs need financial resilience that comes from accumulating unrestricted reserves. Third, NGOs need to scale the reach, effectiveness, and impact of their programs.
The Grantmaking Pyramid has the potential to broaden conversations between funders and NGOs about true costs and adequate funding. Based on our India and global experiences, and drawing on our interviews with sector leaders, we have distilled four recommendations that draw on the Grantmaking Pyramid and hold promise to set funders and NGOs on a new path.
Develop multiyear funder-NGO partnerships: A commitment to longer-term partnerships based on aligned objectives builds greater mutual trust between NGOs and funders. As a result, both can focus on all the elements required to deliver higher impact.
Close the indirect-cost funding gap: NGOs can facilitate adequate funding by clearly communicating and engaging funders in conversations about their indirect-cost needs. Funders can respond by not relying on low, fixed indirect-cost rates.
Invest in organizational development: For NGOs to grow, they must invest in organizational development, such as strategic planning, leadership development, and technology infrastructure. Funders can communicate to grantees that they understand the importance of building strong organizations and are willing to provide needed financial and non-financial support.
Build financial reserves: When feasible, funders can encourage grantees to accumulate operating surpluses that can be used to build reserves. And NGOs need to help funders understand the importance of generating surplus and raising reserve funds (e.g., from high-networth individuals) to build financial resilience.
With so much to do, and so much at stake, it is understandable for a funder to feel overwhelmed and uncertain about where to start. We suggest three immediate actions. Right away, reach out to grantees and understand their true funding needs. Simultaneously, reflect on your own policies and how they contribute to chronic underfunding. And resolve to refine those policies as needed to advance change, drawing on the experience of peers that have already committed to investments in nonprogram costs and organizational development of NGOs.
Chronic underfunding undermines the very impact funders and NGOs strive for. This is a complex, systemic issue, and all stakeholders need to work together to solve it. The evidence in hand argues that it is time for funders to act—to partner with NGOs and provide them the resources they need to build the organizational strength and financial resilience to help solve some of society's most pressing problems. The status quo serves no one well.
Note:
This report is the product of a newly launched, multiyear Pay-What-It-Takes India Initiative committed to building stronger, more financially resilient NGOs. The initiative is led by The Bridgespan Group and five anchor partners: A.T.E. Chandra Foundation (ATECF), Children's Investment Fund Foundation (CIFF), EdelGive Foundation, the Ford Foundation, and the Omidyar Network India.