Three factors have led to our success. We are focused on donors who care about and agree with our mission. We have compelling data that tells our story. And we are absolutely accountable for our results.
– Niels Crone, Chief Operations Officer
Overview
Conservation International's mission is to conserve the Earth's living heritage—our global biodiversity—and to demonstrate that human societies are able to live harmoniously with nature. With headquarters in Washington, D.C., CI works in more than 40 countries on four continents. CI's conservation success relies in equal measure on sound science, diverse partnerships, and a commitment to the welfare of people everywhere. The organization emphasizes scientific information to target the world's most threatened places; reaches out to hundreds of partner organizations, both large and small; and works closely with local people.
CI has built a compelling scientific case that protecting specific areas of high biodiversity will preserve a significant percentage of the Earth's variety of life. Biodiversity hotspots hold especially high numbers of endemic species, yet their combined area of remaining habitat covers only 2.3% of the Earth's land surface. Each of the 34 hotspots faces extreme threats and has already lost at least 70% of its original natural vegetation. Half of the world's vascular plant species and 42% of all terrestrial vertebrate species are endemic to the 34 biodiversity hotspots. CI also focuses on high biodiversity wilderness areas—five regions of low human population densities that have more than 70 percent of original vegetation and are among the last places where indigenous peoples can maintain traditional lifestyles—and key marine regions containing crucial biodiversity that remains mostly unstudied.
CI's combination of scientific inquiry and large-scale conservation supports the organization's appeal to governments, foundations, and wealthy individual donors. CI seeks to maintain operational autonomy by appealing to funders who agree with the fundamentals of its mission. CI also has leveraged its financial stability to expand into market-based approaches to conservation and form partnerships with governments, multinational organizations, private corporations, and other stakeholders. The organization's partners include the governments of Japan, France, Madagascar, and other nations; the World Bank; corporations such as McDonald's and Starbucks; various international, national, and local non-government organizations around the world; and local and indigenous communities.
Organization Snapshot
Founding date: 1987
Revenue (2005): $93 million
Structure: Single organization 1
NCCS classification: Environment, natural resource conservation, & protection
Services: Applies innovations in science, economics, policy, and community participation to protect the Earth's richest regions of plant and animal diversity
Beneficiaries: Diverse and at-risk ecological areas, residents of these areas, and human society at large
Leadership (selected): Peter Seligmann, Chief Executive Officer; Russell Mittermeier, President; Niels Crone, Chief Operations Officer; Gustavo Fonseca, Chief Science and Program Officer
Address: 1919 M Street, Suite 600, Washington, DC 20036
Website: www.conservation.org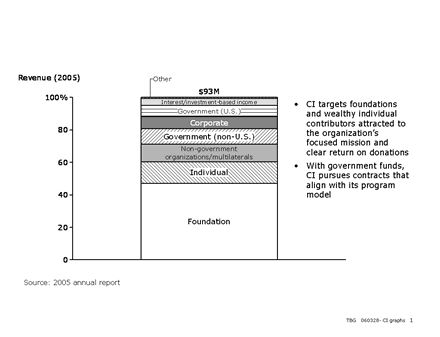 Growth Story
1987 – Peter Seligmann leaves the The Nature Conservancy with a small staff and three board members to co-found Conservation International with Spencer Beebe.
Early 1990s – CI halts direct-mail fundraising and builds its programs with donations from its founding boards board members and grant money from the MacArthur Foundation and others.
Mid-1990s – In a period of tight finances, CI continues to expand its fundraising strategies and efforts with increased focus on foundations and wealthy individual donors.
2001 – A $186 million grant2 from The Gordon and Betty Moore Foundation propels CI's efforts for global biodiversity conservation to new level. The grant establishes the Global Conservation Fund to finance the creation, expansion, and long-term management of protected areas in the world's biodiversity hotspots, high biodiversity wilderness areas, and important marine regions. CI unveils plans to create and strengthen local alliances in places at highest risk, to bolster field research, and to offer new economic tools to protect species-rich regions.
Early 2000s – CI continues to expand relationships with governments, private corporations, international organizations, local communities, and other stakeholders in conservation.
Revenue Trends
Revenue growth: Foundations have been a key driver of much of CI's growth. A grant from the Gordon and Betty Moore Foundation produced CI's biggest revenue spike.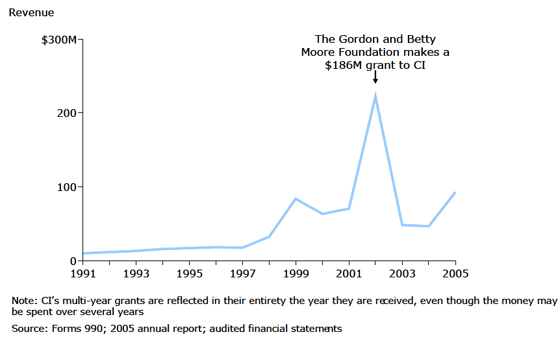 Funding mix: Despite its large size, CI continues to receive a large percentage of its funds from foundations.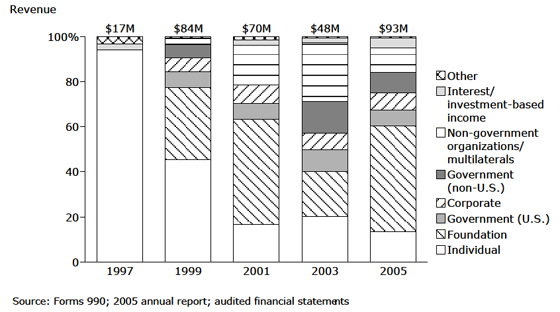 2>Actions That Helped Propel Growth in Funding
Found funders that fit with its program model. Much of CI's growth has resulted from its ability to attract foundations and large individual donors who support the CI model and trust the management to invest very large donations in accordance with this model.
Used compelling data to strengthen appeal to donors. CI has used scientific data to make a strong case to donors that focusing on specific areas can preserve a significant percent of Earth's biodiversity. It also has invested heavily in tracking the results of its direct efforts. This approach to demonstrating a return on donors' investments aligns well with CI's focus on foundations and wealthy individuals.
Was able to communicate and market a complex model. CI's direct appeal to foundations and individual donors requires the ability to both inform and inspire. The organization relies on the unique skill sets of its leaders, described as "charismatic scientists," to do so.
Secured first-mover advantage. CI was the first to seize the biodiversity hotspot concept, providing the organization with a first-mover advantage in reaching out to funders.
Funding Challenges
Managing spiky revenues. Large grants and donations have translated into some large revenue swings for the organization, requiring CI's leadership to remain flexible in managing financial resources.
Demonstrating a return on capital. CI's funding model required it to demonstrate a return on capital and to communicate those returns with investors.
Avoiding overly restrictive grants. Given CI's strong commitment to adhering to its mission, the organization has had to turn down some restricted funds from government and individual sources.
Sources Used for This Article
1. --
2. An additional $75 million was part of the grant, conditional on CI identifying matching funds.