We trained our donors to expect that a dollar invested led to a dollar spent on the ground. But as we have grown, dollars from restricted donations have had to bear their share of overhead.
– Tom Briscoe, Chief Financial Officer
Overview
Founded in 1991 by the International Churches of Christ, HOPE worldwide works to change lives by harnessing the compassion and commitment of dedicated staff and volunteers to deliver sustainable, high-impact, community-based services to the poor and needy. Its services center on helping children and seniors by providing long-term basic health care and educational services. Guiding principles include building strong ties to the communities the organization serves and relying on volunteers.
HOPE worldwide operates in more than 70 countries including the U.S. and assists more than 1 million individuals a year. Its strong ties with the International Churches of Christ facilitate fundraising efforts and provide the organization with volunteers. Supporting growth has required HOPE worldwide to reach beyond its base of small individual donors from church communities. It now taps into government and corporate grants and also relies heavily on in-kind donations to operate its hospitals and medical clinics.
HOPE worldwide's central office coordinates the collection and allocation of funds, in-kind donations, and volunteers. It gives its affiliates significant autonomy in their daily operations.
Organization Snapshot
Founding date: 1991
Revenue (2003): $52 million (including $10 million from international affiliates)
Structure: Network
NCCS classification: International, foreign affairs—international development
Services: Provides educational and medical services in developing communities
Beneficiaries: Disadvantaged children and the elderly in developing communities
Leadership (selected): Robert Gempel, Chief Executive Officer; Patricia Gempel, Executive Vice President; Thomas Briscoe, Chief Financial Officer & Vice President
Address: 353 West Lancaster Ave, Wayne, PA, 19087
Website: www.hopeww.org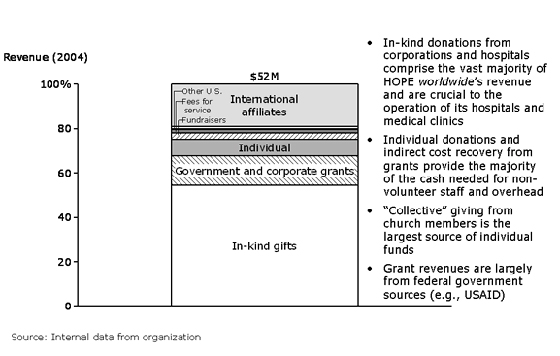 Growth Story
1987 - 1991 – The International Churches of Christ contribute funds to provide humanitarian relief and establishes programs around the world.
1991 – HOPE worldwide is founded as a separate 501(c)(3) organization to carry out the humanitarian relief and outreach work of the International Churches of Christ.
1993 - 1996 – HOPE worldwide opens the Village of Hope leprosy colony in India and Sihanouk Hospital in Cambodia, along with numerous other new programs in new sites. The organization appoints nine regional vice presidents to oversee operations. Government contracts and grants become a significant funding source.
1997 - 2001 – HOPE worldwide continues to expand its geographic reach and program offerings. In-kind donations for its health care and education programs grow rapidly while funds from individuals grow more slowly.
Revenue Trends
Revenue growth: HOPE worldwide initially grew steadily as it expanded to new geographies and added programs. Effects from 9/11 combined with changing relations with its original donor group have led to inconsistent growth since 2000.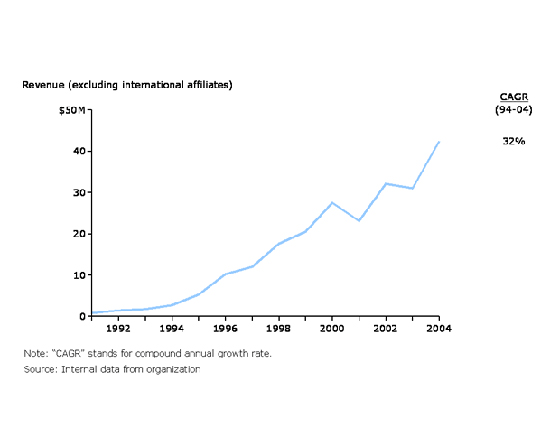 Funding mix: While cash donations from individuals have grown considerably in absolute terms, in-kind gifts have been the organization's growth engine.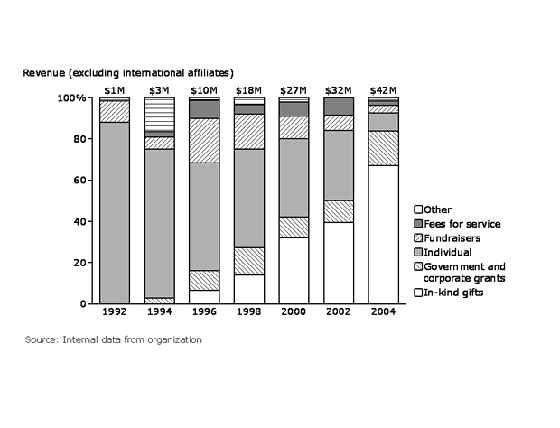 Actions That Helped Propel Growth in Funding
Harnessed the energy of a motivated base of individual supporters. HOPE worldwide's individual supporters have provided the organization with a dependable source of volunteer, cash, and in-kind resources that allow the organization to expand into new geographies and programs as opportunities arise. Many of these individuals have been attracted to HOPE worldwide because of its roots in the International Churches of Christ.
Reached beyond its original donor base. As HOPE worldwide expanded beyond the size its original faith-based supporters could fund, it sought and secured government and corporate donations to sustain its growth.
Funding Challenges
Building the organization's capacity. HOPE worldwide lacks the funding to expand its management and administrative capacity at a rate that meets the demand of its programmatic growth. The organization's unrestricted funding has not kept pace with the growth of its restricted program funding, and some of its historic donors have been reluctant to fund investments in overhead.