Leaders Matter
Nonprofit leadership, careers, and recruiting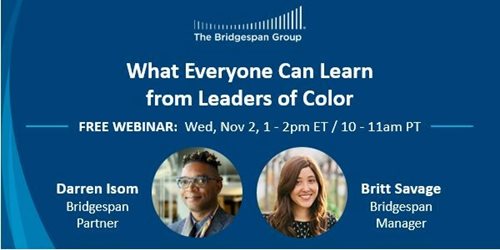 November 2, 2022
1-2 pm E.T.

The importance of putting BIPOC leadership at the forefront for the sake of impact is an argument that has already been made many times over. Bias-fueled myths about the lack of qualified leaders of color have repeatedly been debunked. This conversation isn't to convince you of these things.

Join us for a conversation that aims to elevate the assets and skills leaders of color bring because of their identity that make them effective leaders.

This webinar will explore questions such as:
In what ways do personal experience and identity strengthen the work of BIPOC leaders?
How can we better recognize and support the overlooked skills that are critical for impact, particularly in commitments to structural and systemic change that BIPOC leaders often differentially possess?
What lessons can be gleaned from refining our definition of leadership to be more inclusive and equitable?
You are receiving this email because you subscribed to The Bridgespan Group's newsletters and/or alerts. If you wish to no longer receive this email, please click this link to unsubscribe. You can also review our privacy policy for details of how we use any information provided by you.

If you have any questions or problems unsubscribing from our communications, please contact us at

[email protected]

or call (617) 572-2833.

The Bridgespan Group
2 Copley Place, Suite 3700b, 7th Floor, Boston, MA 02116