By Mariah Collins, Sebastian Gonzalez, Elias Rosenfeld, Bradley Seeman

For nonprofits, doing evaluation well includes using methods that engage, respect, and benefit the constituents and communities with whom they work.

This article offers practical advice for how to embed more equitable practices and improve evaluation and learning at your organzation.
Conversation starter: How to Measure with Equity

A companion to our new article on measuring with equity, this step-by-step guide can help your team embed practices that promote equitable forms of measurement, evaluation, and learning into your improvement efforts.

Download now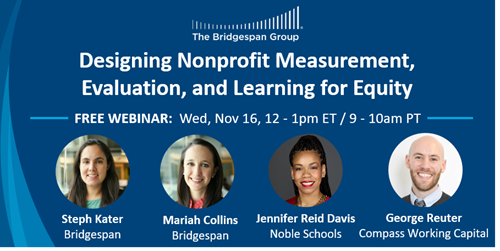 Designing Nonprofit Measurement, Learning and Evaluation for Equity
Wednesday, November 16
12 - 1 pm ET / 9 - 10 am PT

How is equity embedded in your approach to measurement and evaluation?
Performance measurement is a tool for learning and decision making that leads to better performance. And, core to doing this well is measuring with equity–something nonprofit leaders are increasingly seeking to incorporate into their measurement work.
Join this webinar to:
Learn what it means to incorporate equity into a nonprofit's measurement, evaluation, and learning

Hear about examples from nonprofit leaders in the field

Gain practical advice for leaders who seek to create equitable impact through their work
In addition to sharing tips for incorporating equity in nonprofit measurement, Jennifer Reid Davis, head of strategy and equity at Noble Schools, and George Reuter, director of impact and innovation at Compass Working Capital will join us to share their experiences and perspectives.
You are receiving this email because you subscribed to The Bridgespan Group's newsletters and/or alerts. If you wish to no longer receive this email, please click this link to unsubscribe. You can also review our privacy policy for details of how we use any information provided by you.

If you have any questions or problems unsubscribing from our communications, please contact us at

[email protected]

or call (617) 572-2833.

The Bridgespan Group
2 Copley Place, Suite 3700b, 7th Floor, Boston, MA 02116