Although the path we've outlined from strategy to implementation may seem linear, executing on your plan is actually a highly iterative process. As you progress, you may find yourself revisiting decisions you made earlier as you learn from your experiences and encounter unanticipated challenges and opportunities. The sixth step, Revisit and Repeat, underscores the fact that you will need to go through the process annually (or potentially more frequently in times of major flux) in order to stay on track and achieve the impact you seek.
If you are reading this guide, our assumption is that you have a strategic plan and your strategy is sound, and you need help executing on it. The following six steps, shown in the below graphic, provide a road map for embarking on the process.
Each step offers information and templates helpful in completing it, as well as real-life examples that share the stories of nonprofits who have successfully moved from planning to implementation.
Implementation That Gets Results: Step by Step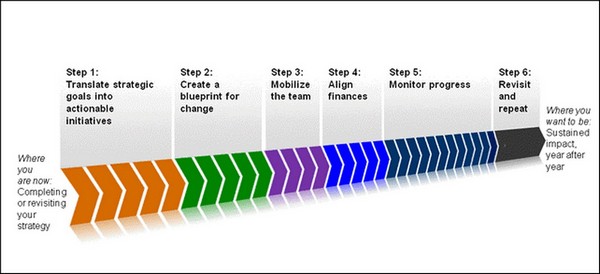 Step 1: Translate Strategic Goals into Actionable Initiatives
In Step 1 of "Living Into Your Strategic Plan: A Guide to Implementation That Gets Results," you will learn how to translate your long-term strategic goals into initiatives your organization will undertake in the next 12 to 18 months as part of the implementation process.
Step 2: Create a Blueprint for Change
Step 2 of "Living Into Your Strategic Plan" helps you consider your nonprofit's entire set of strategic initiatives to ensure that their scope, length, and required effort are realistic and appropriately sequenced.
Step 3: Mobilize the Team
You will learn how to mobilize your nonprofit's team to support and accomplish implementation goals in Step 3 of "Living Into Your Strategic Plan."
Step 4: Align Finances to Support Implementation
In addition to staff time, implementing your strategy likely will require shifting finances or acquiring new resources to support strategic goals. Step 4 of "Living Into Your Strategic Plan" will help you allocate resources against your nonprofit's agreed upon goals.
Step 5: Monitor Progress
Organizations that are effective at strategic implementation have strong processes in place for systematically measuring and evaluating progress towards their goals. Step 5 o f "Living Into Your Strategic Plan" explores processes that can help you ensure your nonprofit stays focused on executing its strategies, while learning and adjusting as you go.
Step 6: Revisit Your Strategy and Repeat the Process
Organizations that are most effective at implementation revisit their strategic plans, viewing their strategies as anchors, not constraints, to what they can achieve. Step 6 discusses when you should consider repeating the steps described in "Living Into Your Strategic Plan."