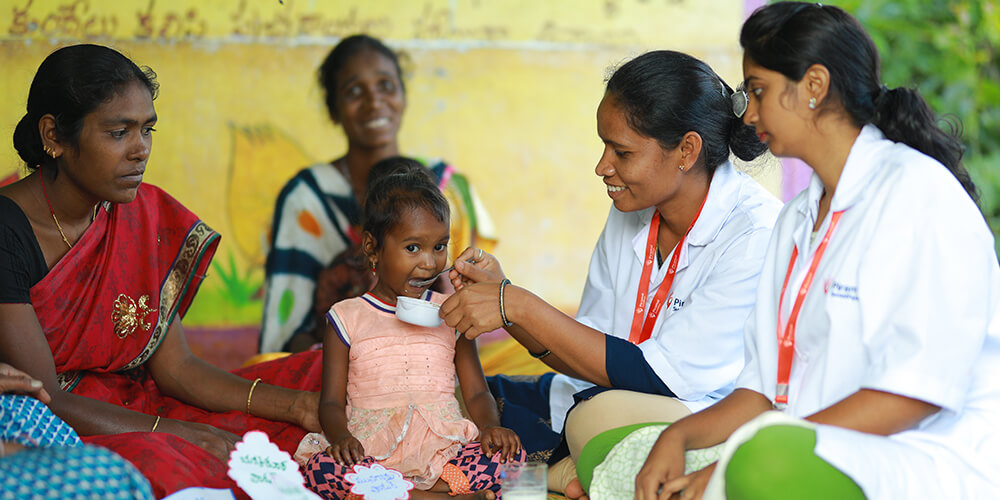 (Photo: Piramal Swasthya)
Executive Summary: Philanthropic Collaboratives in India
Call it the collaboration conundrum: Conceptually, social sector actors who are working to tackle chronic social challenges know they benefit by drawing on others' resources, skills, and experiences. At the same time, comparatively few philanthropies and stakeholders act collectively, not least because it can be challenging to build consensus across multiple partners, negotiate the risk that some partners might fail to deliver, or share credit. This is particularly true in India, where the relative dearth of collaborations involving multiple funders and stakeholders is arguably reflective of these tradeoffs.
Nevertheless, some Indian funders, non-governmental organizations (NGOs), and intermediaries are overcoming the perceived pitfalls and beginning to realize collaboration's potential to positively impact many more lives. "If we want to do scale-related work, the only way forward is through collaboratives," says Vidya Shah, CEO of EdelGive Foundation. "There is no other option to tackle these big social problems."
Building on The Bridgespan Group's 2018 investigation of eight bold philanthropic initiatives in India—which found that collaboration is a key catalyst for driving social impact—this report takes a deeper look at how funders and other actors are joining forces to amplify and sustain their efforts over time.
Specifically, this six month research effort looked at "philanthropic collaboratives" in India, which we define as follows: Co-created by three or more independent actors—including at least one philanthropist or philanthropy—a philanthropic collaborative is an entity that pursues a shared vision and strategy for achieving social impact, using common resources and prearranged governance mechanisms. There are other forms of social sector collaboratives in India that are worthy of study but are not covered in our definition. To that end, the philanthropic collaboratives researched in this report do not seek to be exhaustive of all types of collaborations.
Most of India's philanthropic collaboratives are less than five years old. There is much to learn about why Indian philanthropists and other actors collaborate, what conditions give rise to impactful collaboratives, and how they work to overcome obstacles and reach many more people. This report seeks to answer those questions. While this might well be the first, sector-wide study of philanthropic collaboratives in India, it also builds on the work of other investigators, including Bain & Company, Dasra, and EdelGive Foundation, as well as previous Bridgespan research on funder collaboration in the United States and also on how some philanthropic collaboratives succeed and why others fail.
This report draws on a survey of 35 stakeholders affiliated with 13 Indian philanthropic collaboratives, as well as more than 50 interviews with different stakeholders of Indian and global collaboratives. A large majority of them indicate that based on their experience, the benefits of collaborating outweigh the costs and risks. Specifically, more than 70 percent of survey respondents strongly agree that working collectively has enabled them to make more progress against India's looming social challenges than working alone.
Philanthropic collaboratives typically organize their mission around at least one of three goals: a) scale solutions; b) build or strengthen a field; c) build a case for promising innovations. To bring these goals to life, the majority of collaboratives take on at least one of six roles, as outlined in the graphic below.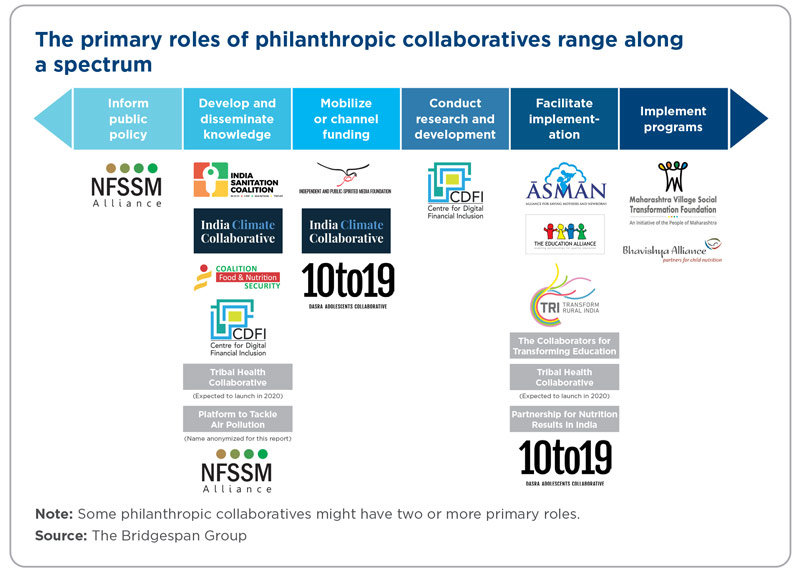 Given their ambition to achieve bold goals, philanthropic collaborative interviewees and survey respondents cite three main motivators for working collectively: First, by leveraging the diverse skills and experiences of different partners, collaboration's total effect can be greater than the sum of its parts. Second, collaboration expands the circle of influence and the impact of individual actors. Third, collaboration mitigates risk by spreading it across multiple players.
Despite the potential advantages of working collectively, building and operating a philanthropic collaborative is a complex undertaking. India's collaboratives are distinctive, in that most consist of multiple stakeholders—not just funders, but other actors including implementing organizations, government, intermediaries, and technical experts. It is no easy thing to organize many stakeholders around a mission, agree on their respective roles, align on a strategy, and build consensus when circumstances change and midflight corrections are required.
Adding to the complexity, philanthropic collaboratives typically encounter different challenges as they progress through two primary life stages: coming together (where the core partners1 map out the philanthropic collaborative's vision, set and agree on its strategy, and determine how it will organize itself and make decisions) and working together (where they execute the strategy and track progress against shared goals). For those collaboratives that enter a reinventing and/or exiting stage, where the partners pivot from working together to working independently or simply ending their relationship, they too encounter a distinct set of challenges. (Please refer to accompanying graphic.)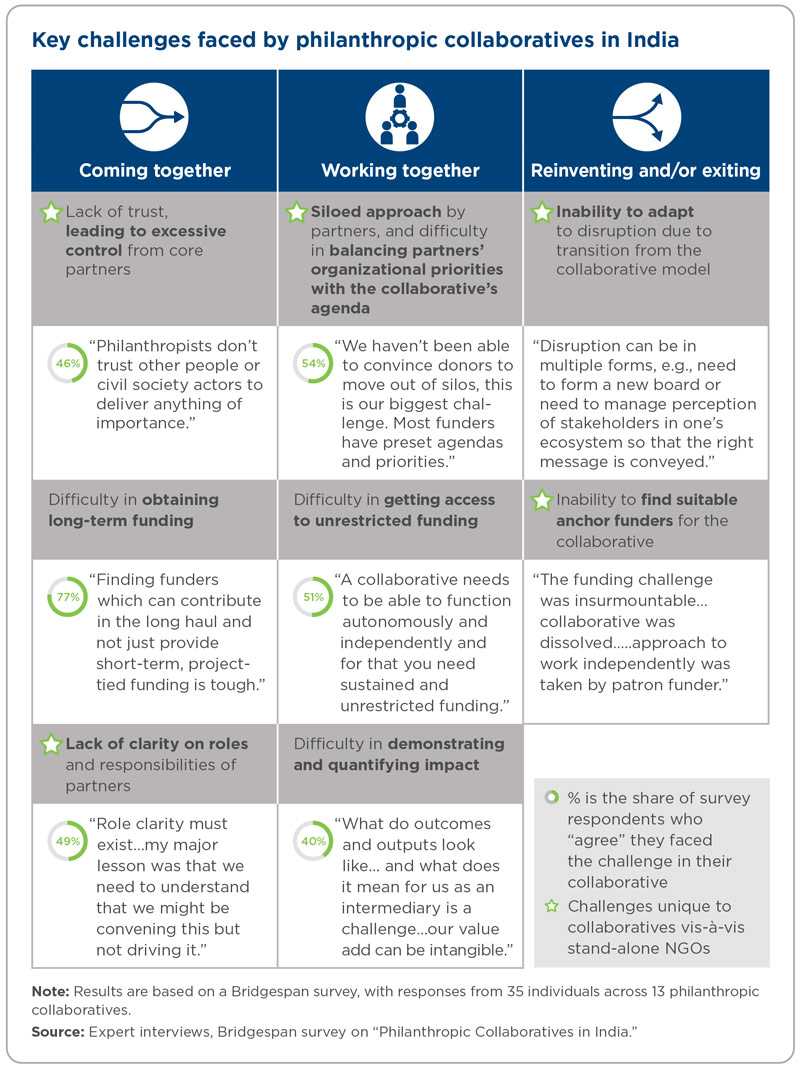 There is no blueprint for philanthropic collaboratives to overcome these challenges. However, the real-world learning experiences of the core partners and leadership at Indian collaboratives have helped us identify a heuristic—the "3Cs"—that current and aspiring collaborators might keep in mind.
First: It takes commitment to collaborate. Working through the complexity of collaborating and making progress towards outsized goals requires a nontrivial investment of time, imagination, and persistence. It also behooves philanthropic collaboratives to secure anchor funders who are willing to provide long-term (at least three years) unrestricted funding.
Second: Clarity (and communication) can streamline collective action. Clarity emerges when there are regular, consistent conversations around who does what, as well as on how core and implementing partners are faring against the commitments they have taken on. Such transparency minimizes the potential for surprising setbacks and counteracts people's tendencies to push their own agendas or retreat to silos.
Third: Be prepared to course correct. It is almost inevitable that as a philanthropic collaborative moves from strategizing to executing, some assumptions will not prove out. By continuously tracking progress and results, collaboratives can get an early signal on what needs to change, as well as reap the opportunity to learn and improve. Should the partners decide to shift from the collaborative model to working independently, anticipating and managing change becomes even more paramount.
Although philanthropic collaboratives in India are relatively young, interest in them is accelerating. During the course of this research, we learned that some global collaboratives, as well as domestic philanthropists, are actively considering setting up philanthropic collaboratives in India. We will learn more over the next five years, as new collaboratives emerge and existing collaboratives produce far more outcome data.
What is already clear is that as more funders and stakeholders shift from considering collaboration to actually pursuing it, philanthropic collaboratives will become a little less of an exotic pathway in India's social sector, and a little more the new normal for taking on specific, complex issues. That will require enough vision to recognize the potential of many people pulling together, as well as the persistence to keep at it.
"We need to think more deeply about how we can get more people to work together," concludes Ajay Piramal, founder of Piramal Foundation. "Collaboration requires a long-term commitment. The problems we face will not be solved in one or two years."
Notes
[1] Core partners are individuals, institutions, and organizations who co-created or are aligned with the vision, initial strategy, and operating model, and provide strategic guidance to the philanthropic collaborative (typically by participating in its governance).