Introduction
As part of this Introduction, you will find resources that will help you determine if you are ready to embark on this process and how to get started.
What is this?
This guide is a practical companion to the article, " Growing Network Impact: How Nonprofit Networks are Raising the Bar on Results."
In the course of The Bridgespan Group's work, we have seen several networks take promising steps to deliver measurably better results in achieving their missions. At these organizations, staff members from the central office are working collaboratively with affiliate leaders to improve the way in which their network's high-level strategy translates into action across the entire organization. They're figuring out where their best work is being done across the network, finding ways to become more effective, and learning how to ensure that all affiliates benefit from the experiences and know-how of their peers.
All of the networks we've studied are in the early stages of implementing their new approaches; however, there is visible consistency in what they're doing. Specifically, we've observed five critical, common elements in their work. These organizations all:
Start with Strategy: Use the network's unified strategy to drive decision making
Define Effectiveness: Create a common language by defining the dimensions of effectiveness
Create Paths: Create paths for improvement for affiliates
Diagnose Performance: Diagnose where the network is today and uncover pockets of strength
Facilitate Learning: Use diagnostic results to facilitate ongoing learning and improvement
These pages are designed to help you use the five common elements as a foundation for your own efforts to improve effectiveness throughout your network.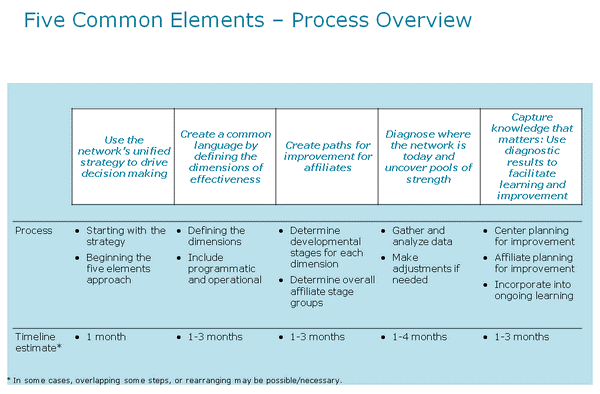 What kinds of networks will find this useful?
This planning guidance focuses primarily on two kinds of networks – federated and associated. Both are collections of independent 501(c) 3s, whose affiliates focus on similar activities and services. But whereas federated networks (like Big Brothers Big Sisters or the Boys and Girls Clubs of America) offer mostly standardized program models, associated networks (like the Land Trust Alliance or Public Education Network) use a more varied set of program models.
Nonprofit networks go by many names and are defined in a number of different ways, but the key differences among them are the degree of central control, variations in the types of activities of affiliates, and degrees of standardization in affiliate work. The chart below shows our full definition of organizational network forms. This planning guidance is geared towards associated and federated networks, though some of the actions we describe could be implemented within other network structures.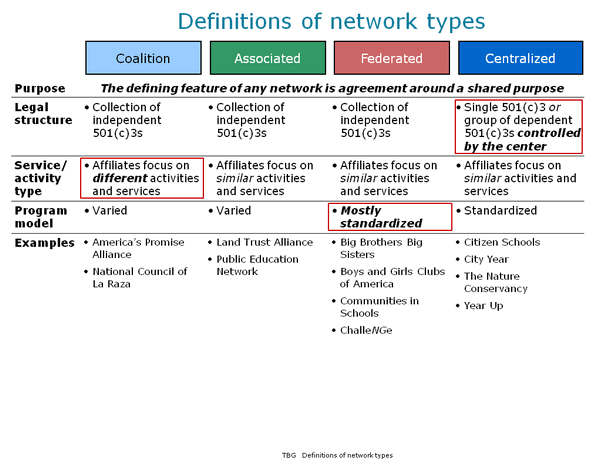 To download a PowerPoint copy of the definitions of network types, please click here.
Why Now?
For decades, the primary pressure facing networks was to build a bigger footprint – be in more places, serve more people. Now, that pressure is being equaled by another: to get better. Networks, with multiple sites often operating similar programs, are increasingly expected to provide donors and supporters with a higher level of evidence that their work is effective and delivered consistently across the board. While such an "outcomes" orientation isn't new, its effect on the sector has been magnified, in part because of the difficult economy.
The five elements outline a promising approach for networks seeking to get better.
Before considering the five elements, however, it's important to answer a series of questions to determine your networks readiness to embark on the process and to design a plan of attack for your network's own approach.