Video: The report's authors describe the spirit in which they created this work on funding equitable impact.
For decades, place-based funders have grappled with how best to invest in the communities they seek to serve. In recent years, there has been a shift from top-down "interventions" to approaches that tap into the lived experience of community members who have been held back from opportunity. The tumultuous events of 2020 accelerated that shift. The pandemic, by disproportionately impacting communities of color, put a bright spotlight on long-standing inequities that permeate the United States. The anguished response to racialized violence was yet another catalyst for funders across the country to act.
Race and Place: Further Reading
The calamities of last year magnified the need to put into practice all that the social sector has learned about how to fund equitably (albeit belatedly, as organizations including Philanthropic Initiative for Racial Equity and ABFE have long highlighted pathways for funders seeking to support racial justice efforts). In particular, funders worked to lift up the agency of community members, who are closest to the community's challenges and often know best how to solve them. Place-based funders have an abiding commitment to their regions and feel accountable to other members of their communities. Thus, in 2020, they felt the weight of responsibility to address regional inequities and embrace the expertise of community members more fully and with an even greater sense of urgency.
Against that backdrop, a team from The Bridgespan Group embarked on a learning journey with place-based funders in 12 cities across the country, via monthly Zoom meetings and breakout sessions—as well as monthly individual interviews with each funder—from August 2020 through January 2021. These philanthropies focus like a laser on their communities, so much so that many have baked their sense of place into their very names: Houston Endowment; Seattle Foundation; Greater New Orleans Funders Network, among others.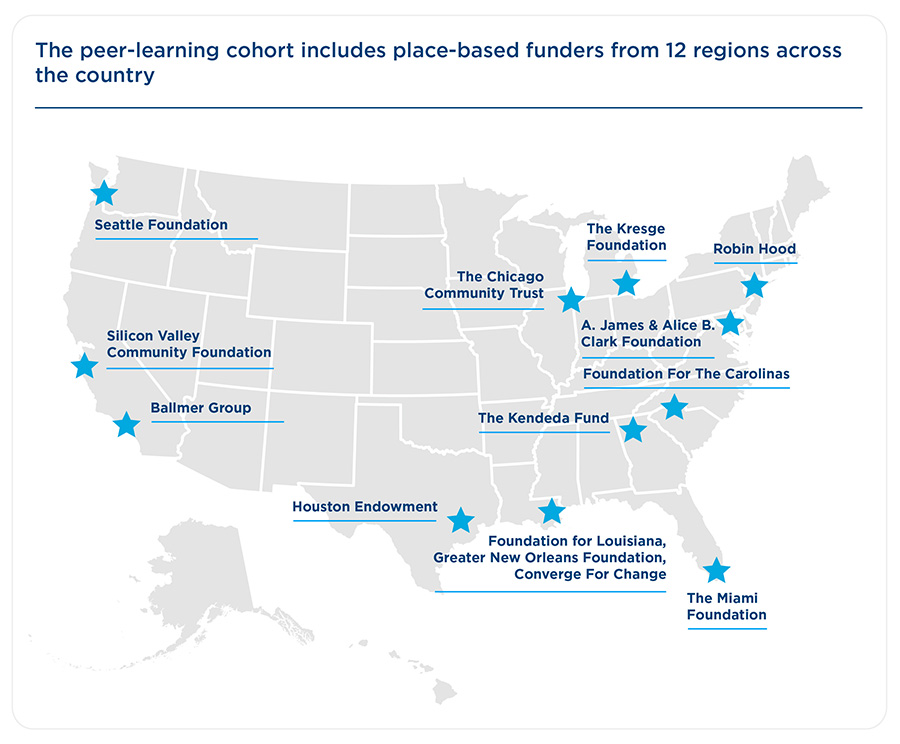 The peer-learning cohort was diverse in several ways. It was multi-racial, for one. The group also represented regions that differed demographically and socially, politically, and economically. (Although all of the regions were urban.) And it consisted of a mix of community foundations and private foundations, whose budgets and roles differed considerably. What bound these participants together was a shared commitment to rebuild with equity, as well as a desire to learn alongside one another as they navigated some of the same thorny challenges[1]:
How do we continue to interrogate our personal and institutional mindsets and practices?

How do we authentically engage communities—especially those of Black, Indigenous, and people of color (BIPOC), who have been structurally held back from progress—so they can shape our thinking and strategies?

How do we help build more power in BIPOC communities?

How do we more effectively collaborate with, and influence, other key stakeholders in our region, including our own donors, to advance community priorities?

How do we partner with public leaders and also push them further to address the root causes—not just the symptoms—of seemingly intractable social challenges?

These funders, like many other place-based funders, have long grappled with questions such as these. By sharing with their peers, they found that while no one believed they had all the answers, everyone had insights and examples that others could learn from. Although philanthropy has made some progress in these areas, the peer funders also believed that efforts to change have not yet caught up with the change that is required. All are pursuing and testing various ways to accomplish more.
This five-part field report (see links below) builds on this ongoing work, by sharing real-world practices and tactics from the peer funders. These tactics are best viewed as a series of examples, from funders across the country, which might prove useful to other place-based funders as they build toward their own solutions.[2] The series is organized by theme, each including a few questions for reflection, with the caveat that many of these practices are rapidly evolving. (In fact, participants continue to test new approaches.) Please explore the topics you're most curious about or wrestling with, as you work to become a better agent of equitable change.
---
How are place-based funders interrogating their personal and institutional practices and mindsets, as they lean into anti-racism work?
Looking inward, for white funders and funders of color
Creating space and support for healing and wellness for BIPOC colleagues
Bringing along stakeholders who are in the early stages of their racial equity journey
Auditing the organization's processes and practices
To Advance Racial Justice, Funders Begin by Looking Inward >>
---
How are place-based funders seeking the knowledge and expertise of communities to shape their thinking and strategies?
Positioning themselves to learn from the community​
Recognizing there are many pathways to learning with and from communities
​Involving community from the "first mile" of the decision-making process, instead of just the last
Bringing to teams relevant experience, including experiences as members of the communities they seek to serve
When Funders Source the Wisdom of the Communities They Serve >>
---
How are funders deepening their efforts to build power in the communities they support?
Flexing dollars, providing professional services, investing in leaders
Supporting communities through intermediaries
Using networks to help nonprofits accomplish more
Building Community Power from Within >>
---
How can place-based funders work with other stakeholders—including their own donors—to advance community priorities?
Expanding the inner circle, so communities are part of cross-sector coalitions for change
Using social capital to connect community leaders to decision makers
Making the case for other funders to work with allies on community priorities
Building alliances with other funders to invest collectively
Building Partnerships to Extend Funders' Resources >>
---
How can place-based funders push the leaders of public institutions to advance systems change, even as they seek to partner with them?
Supporting local government through resources, collaborative initiatives, and pilots
Supporting—and sometimes pushing—policy change
Partnering with Public Institutions: Collaborating, but also Advocating >>
---
Debby Bielak and Darren Isom are partners in The Bridgespan Group's San Francisco office. Marion Michieka is a senior associate consultant in the same office. Editorial Director Bill Breen is based in Bridgespan's Boston office. The authors thank Bridgespan Senior Advisor Nan Stone for her guidance throughout this project.
Notes
[1] A relationship with Bridgespan also bound this group of funders. To rapidly launch the learning, we drew from those whom we knew.
[2] Specifically, the tactics are drawn from 70 conversations with the participants in the peer-learning group, as well as six group conversations.