Scenario and contingency planning help nonprofit leaders plan for and react to opportunities and challenges that may arise over a given time frame. They enable nonprofits to ask and answer the question, "What would we do if…?" for a variety of circumstances, taking time to consider strategic implications, identify and weigh options, and agree on trade-offs.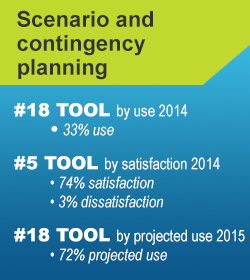 Read the Full Report
Scenario planning enables leaders to explore and prepare for hypothetical circumstances and environments (e.g., economic downturn vs. recovery, or government funding cuts vs. growth). Contingency planning is a form of scenario planning focused on navigating worst-case scenarios (e.g., loss of primary funding, programmatic failure, adverse policy change).
How it's used
Scenario and contingency planning enables nonprofit leaders to prepare for potential challenges or opportunities and to be ready to respond quickly and appropriately. It asks nonprofit leaders to consider factors partially or entirely outside of the organization's control, how those factors might shift, and how the organization could respond.
This type of analysis allows leaders to begin adjusting plans earlier, rather than waiting until a crisis is upon the organization. If an organization needs to reduce expenses, it can preemptively prioritize which costs and investments to protect and which ones to reduce. Scenario plans can help nonprofits act quickly to seize promising opportunities. Contingency plans can help nonprofits weather worst-case scenarios (e.g., significant funding cuts, sudden loss of leadership).
Methodology
To undertake scenario or contingency planning, an organization must have a clear sense of its current strategy and operations, and key drivers of success.
Identify the key factors: Begin by identifying factors that are critical to the organization's success yet uncertain or unpredictable (e.g., a government funding stream that might get cut, a new merger that might take place, an ambitious hiring target). Naturally, much about the future is unpredictable, so focus on the factors that would most significantly affect the organization's ability to reach its goals.
Determine possible outcomes and implications: For each of the key factors, identify the likely range of outcome scenarios for a given element of strategy (e.g., merger occurs in February, merger is delayed until August, merger falls through) and, if practical, try to assign at least rough probabilities for each. Then, systematically think through how the organization would be affected by each outcome, including how each scenario would affect operations, growth, outcomes, and finances.
Analyze and identify the best path: Next, determine the organization's main options for how it could respond to the various scenarios, making appropriate adjustments to its tactics or even its strategy. Weigh the pros and cons of various responses—which path will be most likely to achieve the organization's mission and goals? Think carefully about which investments, initiatives or programs must be prioritized and protected, and which ones could be postponed, reduced or eliminated.
Codify the triggers and scenarios: Decide what circumstances will lead the organization to make each set of potential changes. For example, "If revenues fall by 10-percent, we will do X, and if they fall by 20-percent, we will also do Y and Z." Determine what indicators should be tracked to determine which scenario should be implemented.
Monitor environment and implement scenarios: As it moves forward, the organization should monitor key indicators so it can select the right scenario for achieving the greatest possible impact under the circumstances.
If unexpected circumstances arise suddenly, with little warning, leaders may choose to condense these steps, and design and implement contingency plans right away rather than waiting for additional triggers.
Related topics
Additional resources
What If? The Art of Scenario Thinking for Nonprofits
Global Business Network offers a comprehensive guide to scenario thinking for nonprofits, including case studies and further reading.
Scenario Planning
The PowerPoint presentation explains what scenario planning is and why it is important, plus outlines a process for creating a scenario plan.
Managing in Tough Times Resource Center
This collection of Bridgespan articles lays out how organizations can plan and act during tough financial times.
Grant Space Knowledge Base
This Q&A page focuses on scenario and contingency planning and contains a variety of links to other resources addressing scenario and contingency planning.
Examples and case studies
The Future of Schooling: Educating America in 2014
In 2003, the Mid-continent Research for Education and Learning organization conducted a scenario plan to explore potential education landscapes in 2014 so the nonprofit would be prepared to adapt to any changes in the education market. The first 13 pages of this document provide an overview of the organization's process and considerations. For a more in-depth read, the remainder of the document details the specific scenarios its leaders considered and how they planned to respond.
Ready for Any Future: How one District used Scenario Planning to Mobilize Support for Change
This case study of scenario planning for a hypothetical school district allows the reader to see how one might go about developing and enacting scenario planning.