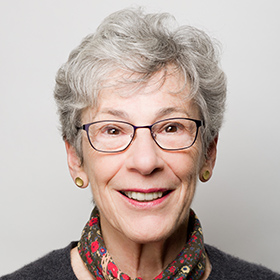 Nan Stone
Senior Advisor to The Bridgespan Group; Adjunct Professor of Business Administration, Tuck School of Business
---
Nan Stone joined Bridgespan as a partner in 2002 to found the firm's knowledge practice. In this capacity, she has helped to create a culture in which generating and sharing insights across the social sector is a central part of everyone's job description. She has served as a thought partner for colleagues developing new ideas and frameworks designed to help nonprofit leaders and philanthropists advance their missions as effectively as possible.
She is the co-author, with Susan Colby and Paul Carttar, of "Zeroing in on Impact," (Stanford Social Innovation Review , Fall 2004), and "Delivering on the Promise of Nonprofits," with Jeff Bradach and Tom Tierney (Harvard Business Review, Winter 2009). She also collaborated on writing the 2011 book Give Smart: Philanthropy That Get Results, with Tom Tierney and Joel Fleishman, and thereafter helped found and build Bridgespan's center of expertise in revitalizing communities. She is the lead author of "Next Generation Community Revitalization: A Work in Progress" (Bridgespan.org, 2011). In 2013 she became a Bridgespan senior advisor.
Before coming to Bridgespan, Nan spent more than 15 years at the Harvard Business Review (HBR), the last five as editor in chief. At HBR, her editorial work spanned every aspect of management thought and practice, from leadership and strategy to finance and organizational behavior. But her very first assignment focused on the management of nonprofit organizations, and the topic never lost its appeal: Her first initiative upon becoming HBR's editor was to establish a department devoted to social enterprise.
Over the years, Nan has volunteered in and served on the boards of many community, educational, and religious organizations. Currently she is a trustee of the Cambridge Community Foundation and serves as a liaison between the city of Cambridge Human Services Commission and the Cambridge Community Foundation.
Nan received her AB magna cum laude from Smith College and was elected to Phi Beta Kappa. She holds a PhD in the History of American Civilization from Harvard University, where she was a Whiting Fellow.