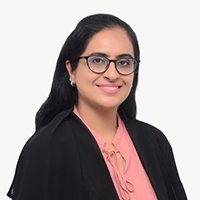 Jasleen Kaur is a manager in Bridgespan's Mumbai office. She has more than 11 years of consulting, research, and policy analysis experience. At Bridgespan, Jasleen has worked on a variety of advisory and knowledge cases. She has worked with collaboratives, NGOs, and philanthropists on various topics, including strategy development, operating models, and policy analysis.
What led you to the social sector?
While in school and college, I was part of various social development initiatives. During my MBA program, I interned with an NGO called Deepalaya in Delhi and was closely involved in teaching children across various age groups (ages 5-12) through their Education on Wheels programme, which brought school to children's doorstep through innovative teaching and techniques to make learning enjoyable. Working with this NGO changed my perspectives about the challenges faced by children in under-resourced communities.
Within the social sector, what issues are you most passionate about?
I'm still in the process of exploring different areas in the social space, but I'm particularly passionate about the development of young people. There's immense potential in what can be done to improve their lives, and working in this area energises me. I've been inspired by speaking to adolescents and understanding their perspectives, and how some of them are enduring against all odds to work for their future.
What prompted you to join Bridgespan?
I was quickly drawn to the Bridgespan website. I saw the video of cofounders Jeff Bradach and Tom Tierney, in which they described the process of incubating Bridgespan and how the exciting set of people at Bridgespan aim to solve problems in the social sector and make the world a better place. I felt my consulting skillset could be leveraged in this space for good.
What do you enjoy most about working at Bridgespan?
I appreciate Bridgespan's focus on diversity, equity, and inclusion and how we intentionally keep equity at the center of whatever work we are doing—be it internal or for the client. I also love the enthusiasm and commitment that my colleagues bring to the table. It keeps me energised.
What do you enjoy doing outside of work?
I love traveling and am always on the lookout for new travel destinations. The COVID-19 lockdown gave me a chance, at home, to explore my passion for baking, and in the last two years I have made more than 50 cakes. I follow Nigella Lawson and several Indian bakers when trying new cakes. The most challenging cake I've made to date is the Queen of Sheba/Reine de Saba, inspired by Julia Child. One day I hope I can join a professional baking institute and learn from the experts!