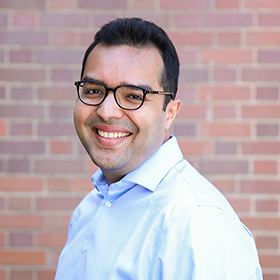 What led you to the social sector?
The seeds were sown in my undergraduate days. I was fortunate to be part of a platform called Young Indians, where we thought about nation building and society at large. I was in one of the initial chapters, which exposed me to the social sector very early on. After that, though, I started my career on the corporate side in business consulting for several years. But my experience with Young Indians had sparked something inside of me: a need to do something on a larger canvas, and to have an impact on people's lives on a larger scale.
What prompted you to join Bridgespan specifically?
On a personal level, I wanted to come back to Mumbai, but I also wanted to stay in the social sector. I believed that the sector needed additional support in terms of strategy and other forms of advisory work. Having worked in the for-profit realm and seen the support that corporations have, I felt that more was needed at intermediaries in the social sector, and working at Bridgespan would allow me to contribute meaningfully.
Furthermore, working within a growing office was an attractive proposition. When I joined Bridgespan's Mumbai office—the firm's first international presence—there were fewer than 10 team members, which provided a chance to work not just only on your own projects but on growing the practice.
What do you enjoy most about working at Bridgespan?
One thing I value a lot in my life is being able to learn something new on a regular basis, and that's what I've enjoyed most about working with Bridgespan—learning new ways to think about things, whether on the project front, in terms of building a workplace culture, or even with regard to equity. I thought I knew a lot about equity, but when I joined Bridgespan, I realised how little I knew. Acknowledging that I'm a work in progress in that area was a turning point for me.
I'm also really motivated by our mission. I've not seen many organisations that so fully live into their stated values. I don't mean to say that other organisations aren't values driven, but Bridgespan takes it very seriously.
My colleagues have also contributed greatly to the experience. Four years has been enough time to work with people closely and get to know them well. I have forged deep relationships with them and learned a great deal from them.
You're working on the recently launched Bridgespan Nonprofit Development Program (BNDP). Tell me about that.
Being part of the team that launched BNDP has been a special and memorable experience. When we were setting the Mumbai office's goals through 2025, we decided that we wanted to work with even more NGOs in India—that's how the concept of BNDP came about.
The program leverages our experience of working on strategy, leadership, and organisational issues of nonprofits over the last two decades—to provide coaching to the senior leadership team of NGOs in the domain of strategy and talent. The 14-week program is designed specifically for NGO leadership teams of three to six participants, and we will soon have three modules: "Achieving Strategic Clarity," "Investing in Future Leaders," and "Strengthening Executive Teams." We're collaborating with NGOs to support them in doing this important work independently in the future.
Now that we have launched the program and the first cohort has been completed successfully, we look forward to expanding it. Working with NGO leaders and better understanding their challenges will also help Bridgespan be more effective in our advisory work.
What do you enjoy doing outside of work?
During the COVID-19 pandemic, my activities outside work have been fairly limited. What I enjoy the most is cooking. When I'm cooking, I'm fully into it and my distraction level is zero—which isn't even the case when I'm working and always trying to multitask.
I also enjoy playing table tennis. It always brings me good memories, because I used to play a lot as a kid. I used to do a lot of swimming too—pre-COVID, of course.
I'm looking forward to leisure traveling again, and I've resolved to start leaving my laptop at home!