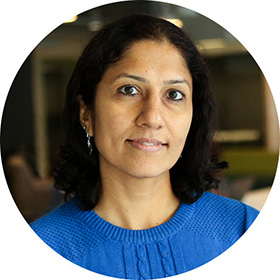 How did your career in the social sector begin?

My journey into the social sector happened quite serendipitously. I started my career straight out of business school in the management consulting world, in Accenture's strategy practice in New Delhi. I had the opportunity to work on Accenture's first large engagement for government in India—for the Ministry of Commerce and Industry, working with the Tea Board of India to develop the export strategy for Indian tea. Those were the years when Indian tea exports had tanked, and the industry was going through a lot of hardship because of low remunerations and high costs. I had the opportunity to travel across many tea plantations in India and interview workers in the tea industry at all levels. I was also able to travel to sub-Saharan Africa to benchmark Kenya's and Malawi's tea sectors, which compete with India in European export markets. That, for me, was life changing. It was an opportunity to see from the ground up the struggles of poverty and livelihoods in a rural context, where farmer families were working very hard but not seeing enough value come to them. That engagement also enabled our team to shape policy, influencing the tea export strategy and related dynamics that could potentially improve the fortunes of tea plantations in India.

Before I joined Accenture, I had completed a two-month internship in Chennai working with the World Bank and the Department of Urban Development in Tamil Nadu, looking at financing sanitation, water, street lights, and other essential infrastructure in cities. A few years after, I was the financial specialist on a second urban development project for the World Bank, this time in Mongolia. These were again eye-opening projects where I got to work with a multilateral donor and government, and engage with stakeholders from waste pickers and slum dwellers to those who controlled the municipality.

Those experiences made it clear that I was here to stay in the social impact sector. There was no turning back, and even today and every day, I wake up enthused by my work.

What prompted you to join Bridgespan?

I joined Bridgespan in 2016, after I had two experiences of being "entrepreneurial" within the umbrella of a global development organisation. I had worked for almost a decade at Cambridge Economic Policy Associates (CEPA). I started my career in global development with them in London, and then moved back home to set up and head CEPA's first international office in New Delhi. Then I went on to establish the Delhi office of Dalberg Global Development Advisors.

At that time, Bridgespan was just entering India. When I established contact with Bridgespan, I felt drawn to it for several reasons. First and foremost, a big pull was that Bridgespan is a nonprofit and carried that philosophy through in its values: collaboration, respect, candor, passion, and impact. The great set of peers, colleagues, and mentors also attracted me, as did Bridgespan's reputation for creating strong knowledge products that shape the sector.

Furthermore, I had two small kids, and being entrepreneurial and setting up and leading two new offices had taken a lot of my time and energy. My family used to joke that work was my most-demanding third baby. I felt that Bridgespan would allow me to pursue my calling without compromising on my family.

Tell me about your new role at Bridgespan India.

In addition to being a partner, I recently became the head of Market Impact for South Asia. The role has a few dimensions. The first is to further build our brand, now that we have had a presence in India for five years. The second element is developing a stronger knowledge pipeline, and translating research into action and impact. The third component is fundraising: Being a global nonprofit, our revenue comes not only from fees from advisory work, but also grants to support our general operations, knowledge work, and the new Bridgespan Nonprofit Development Program. Finally, I will be looking at how we can engage the sector more broadly through marketing and events. The objective is to support greater sector impact and shape multiyear initiatives. Our ethos is that of learning and creating "public goods"—that is, to continuously share what we are seeing and learning with the sector and also listen to and learn from others.

I am excited to take on this additional responsibility. It plays to what I am passionate about, and I see it as a natural progression of my work with clients and social sector leaders.

Within the social sector, what areas are you most interested in and why?

My main interest is in public health and nutrition. At both CEPA and Dalberg, I led the global health and nutrition practice, working extensively with bilateral and multilateral organisations, global health partnerships, nonprofits, and ministries of health, across Asia and Africa. I got a 360-degree perspective of what really ails public health in many countries in the Global South. It is also very personal for me. I lost my dad to lung cancer when I was 11 years old, and saw up close both the value and the constraints of healthcare. Growing up, I always wanted to do something toward disease prevention, cure, and overall wellbeing—especially for the underprivileged. I do feel, as clichéd as it sounds, that health is wealth, and that's even truer during the current COVID-19 pandemic. Good health is the precondition for happiness and flourishing, no matter your wealth or education. Yet, most governments don't invest adequately in health.

I also work in other areas such as urban development, early childhood, and agriculture. In over 90 percent of my projects, our recommendations have been implemented by the client toward social betterment. This provides me immense satisfaction and the impetus to continue such work.

After five years with Bridgespan, what have you enjoyed most about the experience?

It has been exciting to watch the Mumbai office grow from six or seven team members when I joined to almost 30 now. Our team is motivated and talented, and I learn and grow daily by working with them. We are building a diverse team, cutting across caste, religion, nationality and gender. I truly believe this equips us to serve the country's development needs in a more empathetic and impactful way. We still have areas to develop, but we are here to stay in India.

It has also been fulfilling to be a part of our knowledge work, including our first multiyear initiative, Pay-What-It-Takes India, which aims to build a stronger and more resilient NGO sector. It has been heartening to witness, after five years, how some of our insights have influenced change already. For example, our report on NGO leadership has informed the setup of organisations such as India Leaders for Social Sector and the Indian School of Development Management, which are now building and shaping new sector leaders. Our work on bold philanthropy informed the creation of Anamaya, the Tribal Health Collaborative, by the Bill & Melinda Gates Foundation and Piramal Swasthya. Similarly, our work on philanthropic collaboratives has been cited and drawn upon in the various collaborative initiatives of government, NGOs, funders, and the private sector in India's COVID-19 response.

Finally, Bridgespan's commitment to and investments in diversity, equity, and inclusion—both in our work and in our people and culture—motivates me. We have made some baby steps in this sphere, and I am glad to be stewarding the Women@Bridgespan initiative in India, working closely with capable colleagues.

What do you enjoy doing outside work?

I spend time with my family and friends. I love outdoor sports and playing board games with my children as well as exchanging stories about books and movies. Seeing them bond and bicker is delightful, and they teach me as much as I could teach them. They are my sharpest critics, too, and their innocent repartees to my high-flying ideas often help to ground me. My husband is my bedrock, and we enjoy discussing and sharing the small and big things in life!

I have a few hobbies that I make time for. I enjoy badminton, dance, and offbeat travel. I am also an avid swimmer. I might have been a fish in some previous birth! I can swim for two or three hours nonstop, and feel refreshed and energised.