Achieving Strategic Clarity
Get clear on your impact goals and make organizational decisions with confidence
Grounded in Bridgespan's experience of working with hundreds of nonprofits in India and across the globe, the Achieving Strategic Clarity module is designed to help nonprofit and social enterprise leadership teams discover what they do best, which communities to prioritise, and what activities will lead to the greatest impact.
Through the course of the program, Bridgespan will support participant teams as they frame their intended impact and theory of change through coaching, toolkits, case examples, and more.
This program is for organisations based in India. If you are based in another country, please explore our Leadership Accelerator program.
---
Program Benefits for Nonprofits and Social Enterprises
Through the program, your organisation can become more effective, efficient, and deliver additional impact, aided by:
Clarity on organisation strengths and capabilities
Alignment among the leadership team on strategic direction
Cross-sector peer learning
At the end of the three-month period, leadership teams are expected to develop:
A working document clarifying which communities you aim to work with and the impact you wish to have
A living document that specifies how your organisation will achieve its impact
A set of critical questions and next steps to further refine your drafts and use them for future decision-making
Who Should Participate?
The Achieving Strategic Clarity program is meant for leadership teams of nonprofits and social enterprises. This program may be the right for your organisation if you:
Would like to achieve more impact through a clearly thought-out strategy
Need to more clearly communicate your work to external stakeholders
Feel your current strategy needs to be updated to better reflect future ambitions
Have had significant leadership changes recently and aim to create a shared team vision
Please refer to the Achieving Strategic Clarity curriculum for further details on the module.
Clients with Whom We Have Worked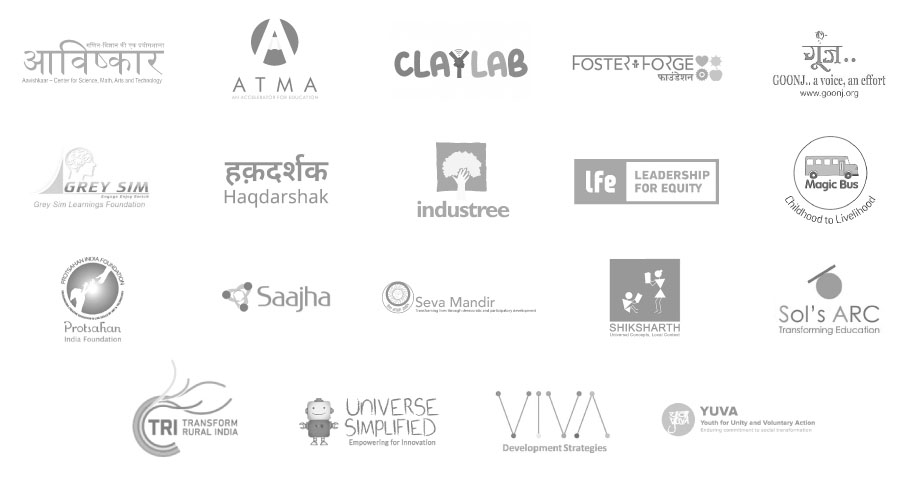 What Our Alumni Have to Say About Achieving Strategic Clarity
"We have learned a lot during this course. It has given us lots of clarity about our impact and helped us to focus more on one program and not to digress."
– Team Member, ASC Cohort

"This program has helped us and ask extremely difficult questions.…. We are able to see the clutter and are now working on streamlining everything"
– Project Lead, ASC Cohort

"We have a lot of clarity as a team of how to go forward. Our entire strategy now has a razor-sharp focus and is aligned to what impact we want to achieve. Preparing a three- to five-year plan based on this strategy is going to bring in a lot of effectiveness in the running of the organization overall."
– CEO, ASC Cohort
Pricing
The program's true cost is INR 8.75 lakhs (approximately USD $11,000) inclusive of taxes for a team of three to six. However, if you are a nonprofit/social enterprise applying directly, our fees range between INR 2.5 - 8.75 lakhs depending on your eligibility for a scholarship. Please reach out to us at [email protected] to know more.
How to Apply
Applications for Achieving Strategic Clarity cohort will open shortly.