Investing in Future Leaders
Transform how your organization develops its emerging leaders
Talent development is not just the responsibility of your HR team—it's a critical concern for your leadership team. In this program, your leadership team will develop a customized approach to talent development that will help you develop your organization's next generation of leaders.

---
Program Benefits
Investing in your organization's future leaders is critical. A steady pipeline of effective leaders prepared to step up can lead to:
Greater retention of high performers
A stronger, more inclusive, and intentional culture
A team that is better prepared to thrive in dynamic and uncertain conditions
Greater stability and resilience within the organization
In this program, your team will:
Define what "great leadership" looks like for current and future leaders by crafting a set of equitable leadership competencies
Co-create professional development plans with your staff that you can use immediately
Create an action plan to implement talent development across the organization
Not ready to participate but want to stay in the loop?
Join our mailing list for access to exclusive webinars, articles, and tools.
(Please note, if your organization is based in India, South Asia, or South-East Asia, visit our Bridgespan Nonprofit Development Program for our available programs. )
What Past Participants Say About Investing in Future Leaders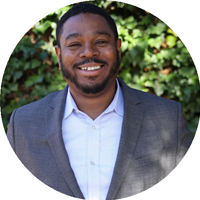 "The program really pushed us to think critically about not only what our current emerging leaders need in order to grow as professionals, but also about the qualities we need in our future leaders for the organization to realize its vision for growth."
Ali Knight
Chief Operating Officer, Fresh Lifelines for Youth
Who Should Participate?
This program is designed for nonprofit senior leadership teams of three to six leaders—which is often the CEO/ED and their direct reports.
Top reasons organizations participate:
Your organization is growing, or you have completed a strategic plan and want the right talent to bring it to life
You want to ensure you're centering equity in your talent development practices
You need to do succession planning for key senior leaders
Request information on how to apply here >>
Why Do This Work as a Leadership Team
Leadership development is not just the work of the HR department or of individual managers. Leadership teams aligned on talent development ensure that all staff develop with a consistent and agreed-upon set of priorities in mind, reducing bias and providing opportunity to all emerging leaders. This program teaches your leadership team critical strategic management skills you can continue to use over time.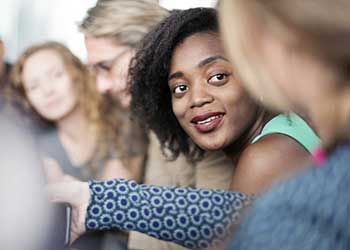 How It Works
Your team is in the driver's seat and can choose the pace that is right for you. Expert Bridgespan coaches provide support for your team's point person, or project lead, via email, weekly check-ins, and one-on-one coaching at critical points throughout the program. Your total time commitment through the process will be about 25 to 30 hours per person.

The program is split into five steps:

Each step consists of: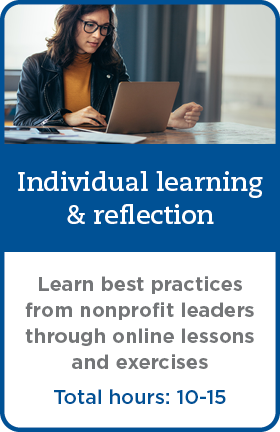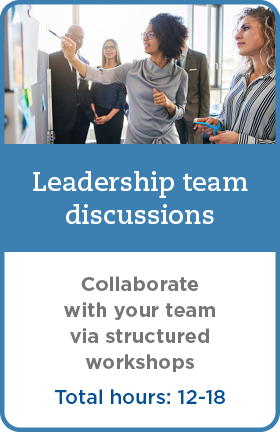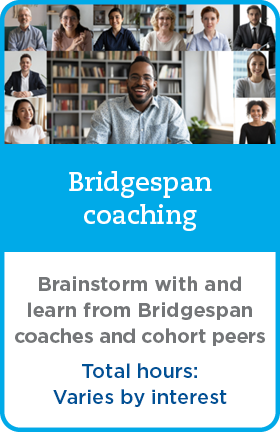 Learn more about the program curriculum and how it works here. >>
Pricing
Price: $10,000 for leadership teams
For organizations outside of the United States, or for teams with more than six members, please email us.
A limited number of scholarships are available to organizations led by people of color. Learn more. >>
Need help funding your participation? Learn more about how to request funding from your donors.
How to Apply
Step 1: Complete the Request More Information form below or email us.
Step 2: A member of the Leadership Accelerator team will contact you within seven days to schedule a discovery call. We'll ask you about your organization and team size.
Step 3: If we agree that the program is a good fit, we'll send you an enrollment form!