Strengthening the Executive Team
Unlock your executive team's full potential
Nonprofits led by strong executive teams create more impact and are better places to work, but only one out of four executive teams feel like they're working together effectively. In this program, you'll learn and apply best practices to help you work together more efficiently, effectively, and inclusively.



---
Program Benefits
Nonprofits who participate in the program have:
More time to focus on the work that matters and fewer ineffective meetings
More clarity, efficiency, and collaboration across the organization
Greater impact for the beneficiaries and communities you care about most
In this program, your leadership team will create a custom team playbook that highlights:
What you work on together: The set of topics and decisions on which your executive team should focus
How and when you meet: The meeting strategy and practices that will enable productive and intentional meetings
How you work together: The practical ways you will build and maintain a healthy team dynamic
Not ready to participate but want to stay in the loop?
Join our mailing list for access to exclusive webinars, articles, and tools.
(Please note, if your organization is based in India, South Asia, or South-East Asia, visit our Bridgespan Nonprofit Development Program for our available programs. )
What Past Participants Say About Strengthening the Executive Team
"This experience ensured we carved out the time to have deliberate, focused, and effective conversations with a simple framework that helped us to pinpoint where we could be more effective as an executive team, and we are already seeing the benefits."
—CEO, 2020 cohort
Who Should Participate?
This program is designed for executive teams of three to six leaders.
Top reasons organizations participate:
You need to clarify the role and purpose of your leadership team
Your organization has new leadership (e.g., new CEO, other senior leaders), and you want to become a high-functioning team
You want to make sure your leadership team is spending its time in the most effective ways possible
Request information on how to apply here. >>
How It Works
Your team is in the driver's seat and can choose the pace that is right for you. Expert Bridgespan coaches provide support for your team's point person, or project lead, via email, weekly check-ins, and one-on-one coaching at critical points throughout the program. Your total time commitment through the process will be about 25 to 30 hours per person.

The program is split into four steps:

Each step consists of: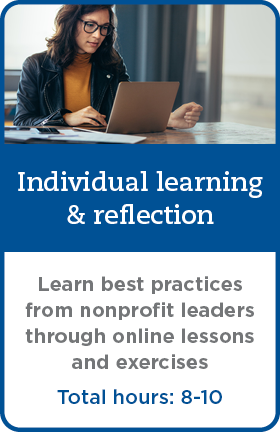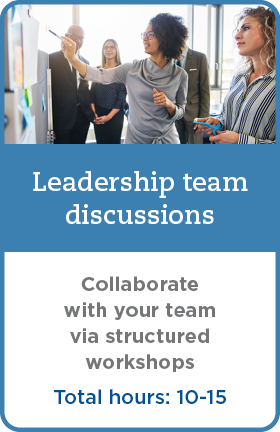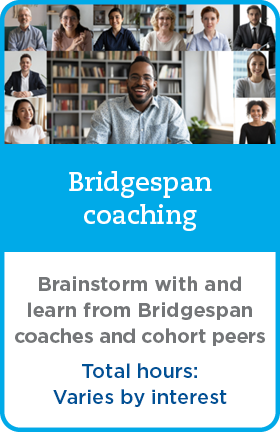 Learn more about the program curriculum and how it works here. >>
Pricing
Price: $10,000 for leadership teams
For organizations outside of the United States, or for teams with more than six members, please email us.
A limited number of scholarships are available to organizations led by people of color. Learn more. >>

Need help funding your participation? Learn more about how to request funding from your donors.
How to Apply
Step 1: Complete the Request More Information form below or email us.
Step 2: A member of the Leadership Accelerator team will contact you within seven days to schedule a discovery call. We'll ask you about your organization and team size.
Step 3: If we agree that the program is a good fit, we'll send you an enrollment form!