Amy Saxton, Summer Search
Helping High School Students Succeed
Watch Video
When Amy Saxton left Bridgespan to join Summer Search as its CEO in 2011, she made a leap of faith.
---
The power of The Bridgespan Group's alumni network to influence society is a critical part of Bridgespan's theory of change, and Bridgespan alumni are generating ever-increasing ripples of impact throughout the sector. Many Bridgespan alumni are engaged in addressing some of society's most important challenges and opportunities. Here meet Amy Saxton, CEO of Summer Search.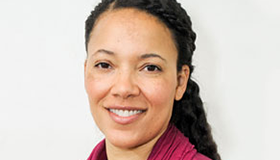 When Amy Saxton left Bridgespan to join Summer Search as its CEO in 2011, she made a leap of faith. At Bridgespan, she managed teams of consultants and collaborated closely with clients who learned to trust her skills, insights, and leadership. Now she would be guiding a national nonprofit organization with hundreds of employees across seven cities dedicated to helping low-income high school students succeed in college and give back to their communities. The challenge was large and complex, but Amy says that her time at Bridgespan gave her the tools she needed to take the jump with confidence.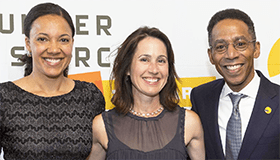 "I used every scrap of knowledge that I learned at Bridgespan," she says, noting that her previous work on strategy as well as significant experience with cases involving education and youth development served her well as she quickly began working with her new team to create a five-year strategic plan. At Bridgespan, she says, "I learned the saying that 'lots of things are good to do, but not everything is equally good to do,' but how do you figure out which is which?"
As she looks for new ways to grow the organization's core model, help more young men of color, and find an innovative path to dramatically scale impact, Amy continues to call on her Bridgespan training and to keep in touch with former colleagues—many of whom remain close friends. Amy has led the organization to establish an ambitious growth plan, achieved 12 percent-plus year-over-year budget growth. She completed a $20 million growth campaign, and set the wheels in motion for the systems and infrastructure that will enable the organization to serve significantly more students, helping them to complete college and become leaders.
At the heart of Bridgespan's theory of change there has always been a simple truth: it all depends on talented and passionate people who share a core set of values, are committed to serving others, and are eager to learn. Over time, some take on leadership roles at Bridgespan; others choose to be of service elsewhere in the nonprofit, philanthropic, government, and private sectors. Many have created mission-driven organizations or now lead influential organizations. Bridgespan is fortunate to continue to serve as a springboard for these extraordinary leaders who are engaged in bold efforts to effect real and lasting change.