Anudip
Transforming Disadvantaged Youth Into an IT Workforce
Watch Video
Dipak Basu launched Anudip Foundation in 2006. Within three years, the job training and placement nonprofit was doubling its reach every year by focusing on developing IT and digital skills.
---
Dipak Basu describes India's Ganges Delta as "a very beautiful place full of mangroves and forests and tigers and king cobras and whatnot—and a whole lot of very poor people." When Basu asked those people how he could help, their clear priority was jobs. They asked the Cisco Systems Senior Director to teach them the job he knew best: how to use computers.
Basu launched Anudip Foundation in 2006. Within three years, the job training and placement nonprofit was doubling its reach every year by focusing on developing IT and digital skills. What's more, it achieved a 75 percent job placement rate—nearly four times the rate of peer organizations in India.
With 41 percent of citizens under age 18, India's population is the youngest in the world. "Some people call it a demographic dividend," says Bridgespan Partner Rohit Menezes. "Other people call it a demographic time bomb, where the Indian economy has to generate millions of new jobs a year just to keep people employed. And that's really just not happening."
By 2016, Anudip was placing 12,000 young people from poor, tribal, or otherwise marginalized communities in jobs every year—and wanting to do far more. Longtime Anudip funder, Omidyar Network, connected Anudip with Bridgespan's brand new Mumbai office. Their joint ambition: figure out how to expand Anudip's annual reach to 100,000 youth served, without a proportional increase in expenses.
How to get to 100K
From the outset, Anudip understood that to increase reach by a factor of 10—but increase expenses by only a factor of three—it would need to incorporate some online education. The question was how to make this happen.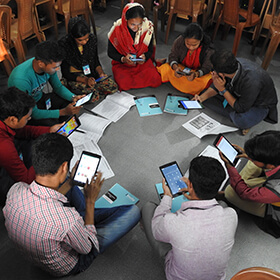 An exhaustive process of gathering feedback ensued. The Bridgespan team traveled to various parts of India's West Bengal state to conduct focus groups, surveys, and interviews with former, current, and potential students, as well as trainers, employers, experts, and Anudip funders and advisors.
The team learned that Anudip's clients were very happy with the nonprofit's services. On a scale of 1 to 10, students rated their overall experience with Anudip an average of 8.1, placing high value on the quality of instruction they received, as well as the job placement supports. Importantly, while they were open to tech-led learning, they also really valued in-person learning and support.
In the final phase of the project, Bridgespan worked with Anudip to translate feedback and analysis into a 12-step transformation roadmap to implement and scale a blended-learning approach.
For Basu, the feedback and strategic support from Bridgespan were affirming. "The relationship with Bridgespan gave us a lot of confidence in ourselves that we were on the right path," he says.
For Bridgespan Manager Danielle Berfond, assisting Anudip was exhilarating. "Working with a nonprofit that is reaching tens of thousands of students and plans to reach hundreds of thousands is really not a chance you get very frequently in the United States," she says. "It captures what opportunities exist in India. If you're able to identify interventions and approaches and organizations that work well, you have the potential to really change the game."
Moving the goalposts
Bridgespan's roadmap, completed in 2016, provided a plan to reach 100,000 students within five years. Four years later, as numbers hover around 30,000, Basu admits to running a little behind. "You can increase the numbers," he says, "but numbers alone aren't enough."
While Basu still believes Anudip will be serving 100,000 students three to four years from now, he acknowledges that, in an ever-changing India, equipping the most marginalized groups with in-demand skills requires more time and effort. As the country becomes more prosperous, Anudip is pushing further down the economic ladder to reach those most excluded from society—people with very high needs, including those with disabilities, victims of trafficking, transgender people, and tribal people. And, as basic computer work moves to other countries, the lowest level jobs in India require a higher skillset and longer training courses for students.
A master at work
Basu has fostered a family-like culture at Anudip, where staff members refer to him as "dada" ("big brother"). But his gentle demeanor belies a persistence, a steadfastness that has led The Rockefeller Foundation and others to seek his partnership in supporting other marginalized populations around the world. Anudip is currently considering expansion into Bangladesh, Nepal, Cambodia, Indonesia, and Malaysia.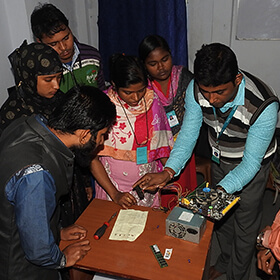 In 2018, Anudip opened its first satellite office in New Orleans, which serves people on probation and parole, as well as those recovering from substance abuse. As with the India program, Basu is finding that it takes a few years to work out the kinks. "What we train, the way we train, is specific to New Orleans," he says.
Today, Basu has taken a step back from daily operations at Anudip to focus on other endeavors. As he moves forward, he carries this lesson from Bridgespan: "Get feedback from all your stakeholders as you go along; get this continuously or periodically to validate what you're doing."
As with many Bridgespan clients, the learning swung both ways. "It was our first true inauguration and immersion into a genuinely indigenous Indian nonprofit experience," says Menezes. "It basically set the bar for all the other projects out of that office both in terms of the breadth of the work and the quality of work."
Created: August 2020