Boys & Girls Clubs of America
Upgrading an Operating Model to Drive Greater Change
When Jim Clark took the helm of Boys & Girls Clubs of America in 2012, he began to pivot to a bold new strategy: shifting emphasis to the outcomes the youth achieved.
---
New initiative: Operating Models for Nonprofit Networks
In October 2019, Bridgespan launched Operating Models for Nonprofit Networks: Bridging the Gap between Strategy and Results, drawing on decades of experience helping organizations revamp their structures, management systems, and ways of working, as well as building the bridge between strategy and execution. While a substantial undertaking, revamping a network's operating model can position it for the next major leap in impact.
When Jim Clark took the helm of Boys & Girls Clubs of America (BGCA) in 2012, he began to pivot to a bold new strategy: to shift emphasis from numbers of youth served to the outcomes those youth achieved in education, personal health, and character.
He also took on an organization that had grown rampantly for 20 years. "At one point, for multiple years, we were opening a new Boys & Girls Club every single day," says Chief Operations Officer Lorraine Orr. The national office struggled to keep pace. Up to 40 percent of Club CEOs left during their first year. And nearly one third of BGCA's 4,700 Clubs reported dissatisfaction with the national office's services.
"It was clear that the national office needed to add value with every interaction, become more responsive, more innovative, and much better able to help some individual Club organizations develop into high-performing operations," said Clark.
In recent years, scores of organizations have set goals to not just serve their communities but to actually solve social problems. Like Boys & Girls Clubs, others are discovering a gap between their new strategy and their ability to execute.
BGCA was not alone in its challenges, but it was recognized for its ambition, complex organization, highly capable leadership, vast footprint of local affiliates, and commitment to realizing real change in its national office. Seven years later, Bridgespan continues to uphold its work with BGCA as a hallmark of effective partnership.
An enormous undertaking
Not every Bridgespan client walks through the door with a detailed list of things it wants to address. BGCA did exactly that. The organization knew what it wanted to change—and that it needed outside help with those changes.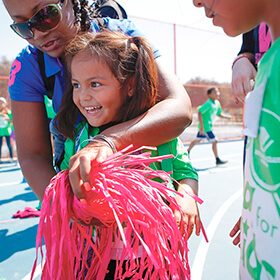 A young girl plays with a pom-pom at Day for KidsTogether with BGCA, Bridgespan embarked on an eight-month process of first engaging with stakeholders to understand what was and wasn't working, and then designing and implementing a new structure and service delivery model. The path forward involved, among other things:
A culture shift at the national office to exist in service of the Clubs. "If the Clubs are to be in service of the kids, how does BGCA recognize the change agent is actually the Club—not the national office?" says Bridgespan Senior Advisor Alan Tuck, who led the project with BGCA.
More customized supports for BGCA's varied Clubs, as well as making sure the right people were serving those Clubs. "Some Boys & Girls Clubs are $30 million organizations and some have very small budgets," explains Bridgespan Partner Mark McKeag. "Some are located in large cities and others in rural areas. They've got Clubs on military bases. They've got Clubs on Native American lands." The diverse Clubs needed a range of supports from the national office.
A shared accountability, so that functions such as marketing or fundraising measure their success by the impact of the Clubs. In particular, by integrating programming and fundraising, BGCA ensured the money it raised aligned with the work it was actually doing.
Devising the plan wasn't easy. "[Bridgespan] tested us," says Orr. "I think that's how you get to really good projects…when you test each other." The ultimate plan represented the largest internal change in BGCA's history, with changes to 40 percent of roles.
The hard part
If dramatic change is challenging, longevity can compound the difficulties. "When you're talking about decades or 100-plus years of operations, it's just that much longer for ways of working to be ingrained," says McKeag. Bridgespan needed to help make the case for change. "Bridgespan…brings a rigor to analysis that makes it harder for people to say, 'but that's the way we've always done it,'" says Tuck. "We pull out the data. We get the inputs from lots of people.'"
For BGCA, the use of data was illuminating. "It was the first time in our organization where we really got very focused on data, and what the data was telling us, and looking outside our organization," says Orr.
This rigor paid off when BGCA finally rolled out the changes. "It wasn't just change for change['s] sake," said Orr. "It was really all about this responsibility we all had signed up for in terms of what needed to happen in this nation for kids. We knew we had to be a bigger part of that change."
Following the project launch, BGCA witnessed intense turnover. Those who stayed have realized that this is a long and emotional transition, but understand its significance to the future of the Movement and mission.
Partnership for impact
These days, the network is seeing encouraging growth in daily youth attendance and a reversal of a 10-year decline in teen participation. And BGCA is more effectively supporting that change. Recently, 80 percent of Clubs reported satisfaction with national office support, an 18 percent increase since 2013.
Tuck gives all credit to BGCA. "It was an extremely thoughtful, driven leadership team that we got to help be successful," he says. "For me, one of the joys of working with them was it wasn't a customer relationship, it was a partnership for impact. We learned from them, too."
McKeag concurs. "[Our work with BGCA] formed the basis of many of the things I think about with my nonprofit network clients," says McKeag.
Not done yet
Seven years later, BGCA is still evolving its operating model to help the network achieve its ambitions. "There's always going to be evolution," says Orr, reflecting BGCA's openness to change.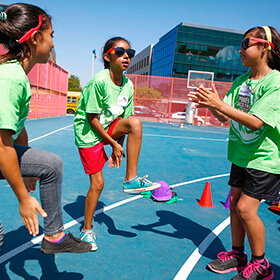 Three girls hang out on a basketball court at Day for Kids In recent years, the national office has expanded to 500 employees. While BGCA has gotten better at maximizing the capabilities of staff at all levels of the organization, it increasingly seeks outside expertise to complement its staff with Club experience. "Now, at least half of our incoming new talent comes from a variety of sectors so we have the right people we need to drive change—and results."
Revenues are up for the entire Movement, setting all-time records in recent years thanks in part to a devoted fundraising team that supports Clubs in the field.
Meanwhile, BGCA continues to use data to address Club CEO training and retention, and other changes. "We've built some amazing data muscle," Orr boasts. Case in point: BGCA's automated National Youth Outcomes Initiative collects data on about 200,000 youth annually, and is one of the largest privately held datasets on youth in the country. "What we've been able to accomplish has been pretty spectacular," says Orr.
Created: August 2020