Catherine Vaughan, Flippable
Flippable—From Strategic Insight to Operational Effectiveness
Bridgespan alum Catherine Vaughan (2008–2010) started her nonprofit, Flippable, the day after the 2016 election.
---
Bridgespan alum Catherine Vaughan (2008–2010) started her nonprofit, Flippable, the day after the 2016 election. "I worked on the Hillary campaign," she explains. "And I just didn't want to stop working on November 9th."
Catherine felt a "dire sense of urgency" to address some of the election's issues, including voter suppression and gerrymandering. While the impetus for Flippable may have been "let's just get something started," the organization moved forward with strategic intention—and soon began garnering both attention and results.
Within six months, Wired magazine called Flippable "one of the darlings of the resistance movement." And in the 2017–2018 midterms, the nimble, eight-person organization helped elect 81 candidates.
Plotting the path to impact
The fact that Catherine was ready to launch her organization on a dime didn't happen by chance. The savvy millennial charted her career intentionally and efficiently, going from college grad to nonprofit founder and CEO in just nine years.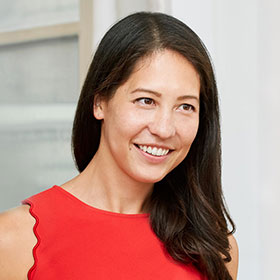 Catherine's first big break came while still in college: a job offer from Bridgespan, which she considered "the holy grail of social impact jobs." She credits Bridgespan with giving her the skills to be a productive part of the nonprofit sector including teaching her how to start big picture and drill down to focus on an organization's core.
By the time she'd worked on business plans for several clients, Catherine started to wonder what happens after the planning phase. "How do you go from a really strategic mindset to a more operational one?"
That question led her to Partners in Health, where she worked at a Rwandan hospital three hours outside the capital. There, she experienced the logistical challenges involved in executing on a strategy and concluded, "Operations really matter." But she also saw that people do, too.
A year later, Catherine found herself at Teach for America, learning the organizational piece of the business including how to build, manage, and lead teams. A few more jobs and an MBA later, she had rounded out her skills in way that readied her to lead. "An animating force behind my different decisions is, I've always wanted to do social impact work, to do good. It's less about the what and more about the how."
Flipping the districts that count
At the moment, the what is Flippable and the how involves weighing the issues the organization values most, using data to understand which states are most likely to flip from red to blue, and channeling money to those campaigns. Flippable has prioritized voter rights, voter suppression, and gerrymandering and is allocating dollars accordingly.
"You don't know exactly how flippable [a district's] going to be," Catherine says. "But you can get a lot of the way there to be able to predict which districts will be in contention."
Flippable has chosen to focus largely on the state level. "These state races are an order of magnitude cheaper than a US House race and two orders of magnitude cheaper than a US Senate race. They cost about $150,000 on average, compared to $1 million and $10 million, respectively," she says. "That kind of idea around 'let's invest our dollars where they're going to go the furthest'—I think that really has its roots in the way the Bridgespan does its work."
Serious clout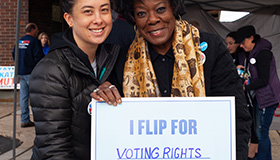 Today, an endorsement from Flippable means a lot. "People especially get excited by the idea that 'this endorsement means we're competitive and we're worth investing in because we can flip this district,'" Catherine says. Case in point: Texas state legislature candidate Ana-Maria Ramos told Time Magazine her endorsement from Flippable "brought her to tears."
Meanwhile, Catherine, who calls herself "a convert to politics," remains committed to righting the injustices in our democracy. Her next step: "The question I'm grappling with now is how do you go from leadership within one organization to really using your platform to have broader influence?"
To that end, in May 2019, Flippable announced it would join forces with Swing Left—another grassroots organization working to help Democrats win seats—with Catherine serving as chief strategy officer. Their first joint initiative: the Flippable States Fund.
And so the trailblazing continues.
Created: June 2019