Reading Partners
Speeding Ahead with an Ambitious Plan to Reach More Children
Developing a plan to anchor goals while providing enough flexibility to adapt to ongoing changes.
---
When Adeola "Ola" Whitney took the helm of Reading Partners in October 2020, she brought drive and passion to a program that needed help. In the thick of the COVID-19 pandemic, Reading Partners' proven curriculum to improve the reading skills of children performing below grade level was critically needed. But the pandemic had also hobbled its reach; the 22-year-old tutoring program, which typically reached more than 10,000 children annually with one-on-one, in-person tutoring, had watched its numbers dwindle to a mere 4,000 children, leaving many students unserved.
Whitney, who'd held other roles with Reading Partners five years earlier, had additional concerns. Leadership at Reading Partners didn't reflect their diverse student body. Of 12 executive directors, only one was a person of color—while 93 percent of children in the program are students of color.
Reading Partners had worked on a strategic plan with Bridgespan three years prior, but circumstances had shifted. "They couldn't just keep marching along against that plan," says Bridgespan Partner Colleen Brosman. "The world had changed too much. They had changed too much. But they weren't starting from a completely blank sheet of paper."
Reading Partners was an ideal candidate for Bridgespan's Leadership Accelerator, which supports organizations through four programs: Investing in Future Leaders, Achieving Strategic Clarity, Strengthening the Executive Team, or Creating an Adaptive Plan. Reading Partners signed on for the last of these programs.
An online curriculum that actually works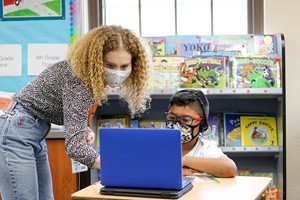 An AmeriCorps volunteer helps a student connect with a tutor online. During the pandemic, Reading Partners took its highly effective reading curriculum online—and achieved results similar to those it achieves in person.
Photo: Reading PartnersThe Accelerator would step Reading Partners through a process for developing a plan that would anchor their goals while providing enough flexibility to adapt to ongoing changes. And Brosman would coach them along the way.
"Even before the pandemic, over nine million public elementary school children from marginalized communities were not reading at grade level," says Whitney of the daunting deficit Reading Partners faced. "There were communities who needed us that would never have the local philanthropy [they'd need to start a regional office]."
The organization had already been contemplating an online model to reach more children; the pandemic made that model an imperative. Tutors continued to meet one-on-one with students, but the technology was messy—and many tutors weren't computer savvy. Still, children loved the undivided attention of a caring adult for an entire hour each week, guiding them through Reading Partners' curriculum—with some extra lessons on social-emotional learning the students especially enjoyed.
The online program, named Reading Partners Connects, achieved results. In 2020–2021, with nearly 95 percent of tutoring sessions being delivered online, 76 percent of students reached their literacy growth goal—only a modest decline from the achievement figures realized when the program was in person.
As Reading Partners embarked on the Accelerator process, Whitney and her team knew they were sitting on an online program that worked—and felt a towering responsibility to reach many more children with their services.
Permission to dream big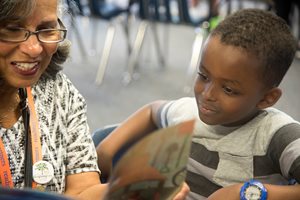 Every year, more than 75 percent of the children who participate in Reading Partners' one-on-one tutoring program achieve their literacy goals. Bridgespan's Leadership Accelerator helped Reading Partners adapt its plan to reach many more children in person and online.
Photo: Reading PartnersWhitney chose Director of the Executive Office Alexis Walls to project manage the Accelerator experience. For her team, Walls assembled a diverse group of people from all levels of the organization who had experience with Reading Partners and brought wide-ranging perspectives.
For Walls, the Accelerator provided a path, with action steps and homework throughout, without being too rigid. "It had a very clear structure and timing; this is when you need to do this and here's what you need to do to prompt this thinking," says Walls. "We really appreciated those guardrails, but also the flexibility as well."
Whitney asked her team to dream big. "I love being a visionary, I love inspiring people, and sometimes I take for granted that people are going to be just as excited as I am about all the things in my mind."
This was where the trio of Whitney, Walls, and Brosman shined. Brosman huddled with Whitney and Walls, gently guiding them on how to lead their team. Whitney recalls one "monumental" conversation where Brosman told them, "The thing is, you all are getting stuck here. What I'd offer is that you need to reframe it this way: Ola, you need to give people permission to think big and not worry about the way in which they're thinking."
With Brosman's help, Whitney was able to get buy-in from the entire team. "[Without her], I don't know if we would've ended up with a vision that everyone felt good about and where everyone felt, okay, my thoughts were included."
But Brosman credits Reading Partners with asking hard questions, pushing to innovate, and maximizing the planning opportunity the Accelerator provided. The result? An adapted plan to expand its reach to exponentially more children annually in person and online within four years, both directly through Reading Partners programs and indirectly through partners they will train to deliver the Reading Partners model.
Turning vision into action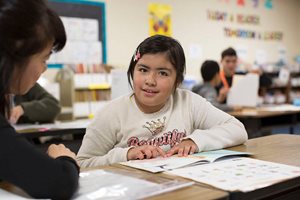 "The reality is, there are more than 60 or 75 students in a school who need our program," says Reading Partners CEO Adeola Whitney. "How can we deepen our impact in those schools? Will leveraging technology actually allow us to serve more students?"
Photo: Reading Partners
It's still early days with the adapted plan. In 2021–2022, Reading Partners delivered half its programming in person and half online, based on school preference. They increased the number of students in their tutoring program by over 30 percent. "We care about our reach, and we care about our service," says an ever-determined Whitney. "They're inextricably tied."
Equity—and ensuring Reading Partners is led by people from the communities they serve—is also tied to service. Whitney has already achieved greater diversity across the organization: today, more than 50 percent of executive directors are Black and Brown.
A recent sizable gift is helping to fund Reading Partners Connects 2.0, which the organization plans to launch in the fall of 2023.
Walls, the voice of pragmatism, likes to remind the board and others that the adapted plan is not a full-blown strategic plan. "It doesn't have a bow on it." But it is a living document that has focused the organization on what it aims to achieve—with clear steps for supporting many more children.
Brosman, who continues to check in with Whitney and Walls, has great faith in Reading Partners. "Their in-person model has done a lot of good," says Brosman. "The size of the gap of children who are not making progress and getting effective instruction is huge. If Reading Partners can help alleviate any of that, it is incumbent upon them to try."