SHOFCO
Leading a Movement for Dignity in Kenya's Urban Slums
Building a strategy for growth while ensuring community voices remain central to the work.
---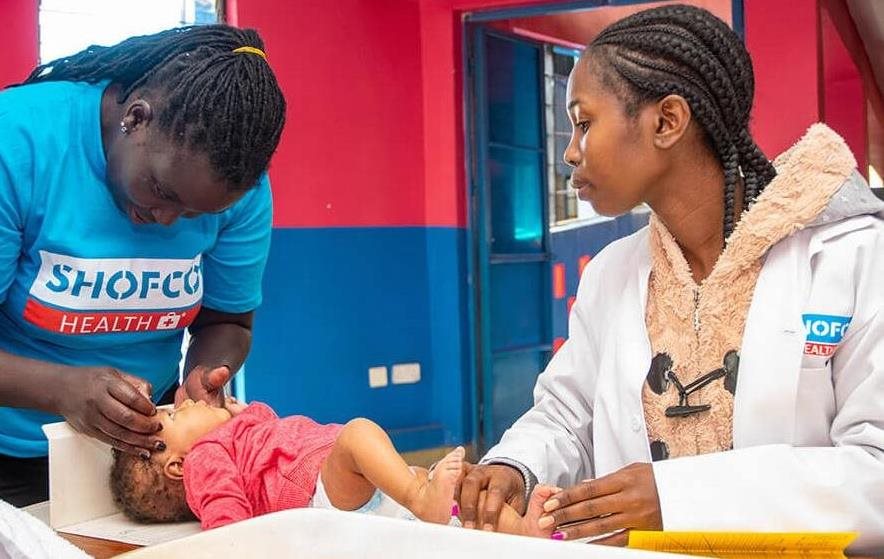 Photo: SHOFCOPrivacy is hard to find in Kibera, Kenya, where most structures are tightly packed and made of tin. Kennedy Odede recounts how the women in his mother's savings and loan group felt powerless to address gender-based violence around their homes until they began raising their voices together. Hearing an incident of domestic violence, they started shouting for attention and saying "stop." The strategy worked—and left a lasting impression on Odede, who learned at an early age that if you bring voices together, you can change something.
In 2010, Odede and his wife, Jessica Posner, founded Shining Hope for Communities (SHOFCO) to listen and respond to community voices in Kibera. Before long, SHOFCO was providing services—educating girls, improving access to clean water, and establishing health clinics—all driven by community desires.
Focus on dignity
"Dignity is a function of providing services so that the immediacy of the stress that many live under is taken care of. But the other, equally important piece is that we create structures that allow people to ask for the change they want. And that change arrives—not some other change that somebody else decided was necessary."
—Bridgespan Partner Jan Schwier
In 2016, SHOFCO formalized the advocacy component of its work by establishing the SHOFCO Urban Network (SUN), which allowed voice to be given to community members in a more structured and effective way. By the end of SHOFCO's first decade, SUN had 147,000 community members across 10 of Kenya's urban slums, and SHOFCO was providing services for 350,000 people.
Unfortunately, the scope of the problem was, and is, bigger than SHOFCO: as of 2020, 7.5 million people were living in urban slums in Kenya, and that number was growing rapidly. Though SHOFCO was also expanding quickly, it wanted to pick up its pace while ensuring community voices remained the engine for its work.
Scaling up grassroots advocacy
As SHOFCO Chief Advancement Officer Katherine Potaski explains: "How do you take something that has been so deeply successful because it's organic, community-led, and then, while maintaining all of those foundational principles, turn it into something that is more strategic, that makes sense to someone while also not diluting anything?"
SHOFCO brought this question to Bridgespan.
"It's a very different proposition for donors when you think about saying, we have to build 100 more schools, and we have to build 100 more clinics," says Bridgespan Partner Jan Schwier, "versus we need to emphasize the community asking and organizing part a lot more, and then focusing on working with others to help bring those services in."
On one hand, community-led change felt more approachable than building 100 more schools. But the narrative was tricky. Funders were used to supporting advocacy or services, but not both. Even internally, there was a need for clarity. "We knew we needed some support to help us think through what would be needed to really operationalize all of it and bring it all together," says Potaski.
Bridgespan had just opened its Johannesburg office when SHOFCO came knocking in 2019. For Schwier, this was an exciting first project. "I think Kennedy and others firmly believed that SHOFCO is about a lot more," he says. "It is about a movement, a way of thinking. It is an organization that's changing how we even think about enabling people who live in dense urban poverty."
Changing the way we think about urban poverty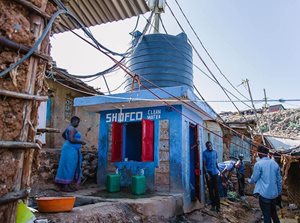 "Water, sanitation, education, livelihoods—these are the building blocks of a sustainable life," says SHOFCO Chief Advancement Officer Katherine Potaski. SHOFCO empowers communities to determine the building blocks that will alleviate stress and position them to thrive.
Photo: SHOFCO
Bridgespan worked with SHOFCO to develop a plan that clarified its vision and set an ambitious target: one million SUN members by 2025.
Bridgespan also helped SHOFCO think through measurement. Asks Schwier: "How can you think about measuring success when, truly, your ambition is to create a more dignified life for a million people? When do we know—either from research or surveys or discussions with community members—that people feel better about their lives? They feel better about their lives when X, Y, Z happens. You can use some of your existing metrics about completion rates in school, vaccination rates in clinics, and position them in a different way, so they contribute to a more holistic picture."
"Jet fuel"
The ink had barely dried on the strategic plan when COVID hit. Community members flocked to SHOFCO for information, income, and, eventually, vaccines. "Lockdowns meant lost wages, which were catastrophic to households living on less than $1 a day," says Potaski. Working with Give Directly, a website that allows people to donate directly to people living in poverty, SHOFCO facilitated the transfer of $2.4 million to 30,000 people.
Moving quickly, SHOFCO also partnered with the Ministry of Health to screen 1.8 million people for COVID. In addition, the organization developed an SMS messaging platform to dispel misinformation about COVID, reaching 350,000 people. And it installed 350 handwashing stations at entry points to slums in Nairobi, Mombasa, and Kisumu that were used more than 50 million times.
In the process, SHOFCO grew rapidly—and had to revise its targets. "Over the last three years, we have grown faster than ever," says Potaski. "We've always been a fast-growing organization, and these last couple of years have just been like the jet fuel." SHOFCO expanded from 10 communities in 2020 to 50 communities in 2022.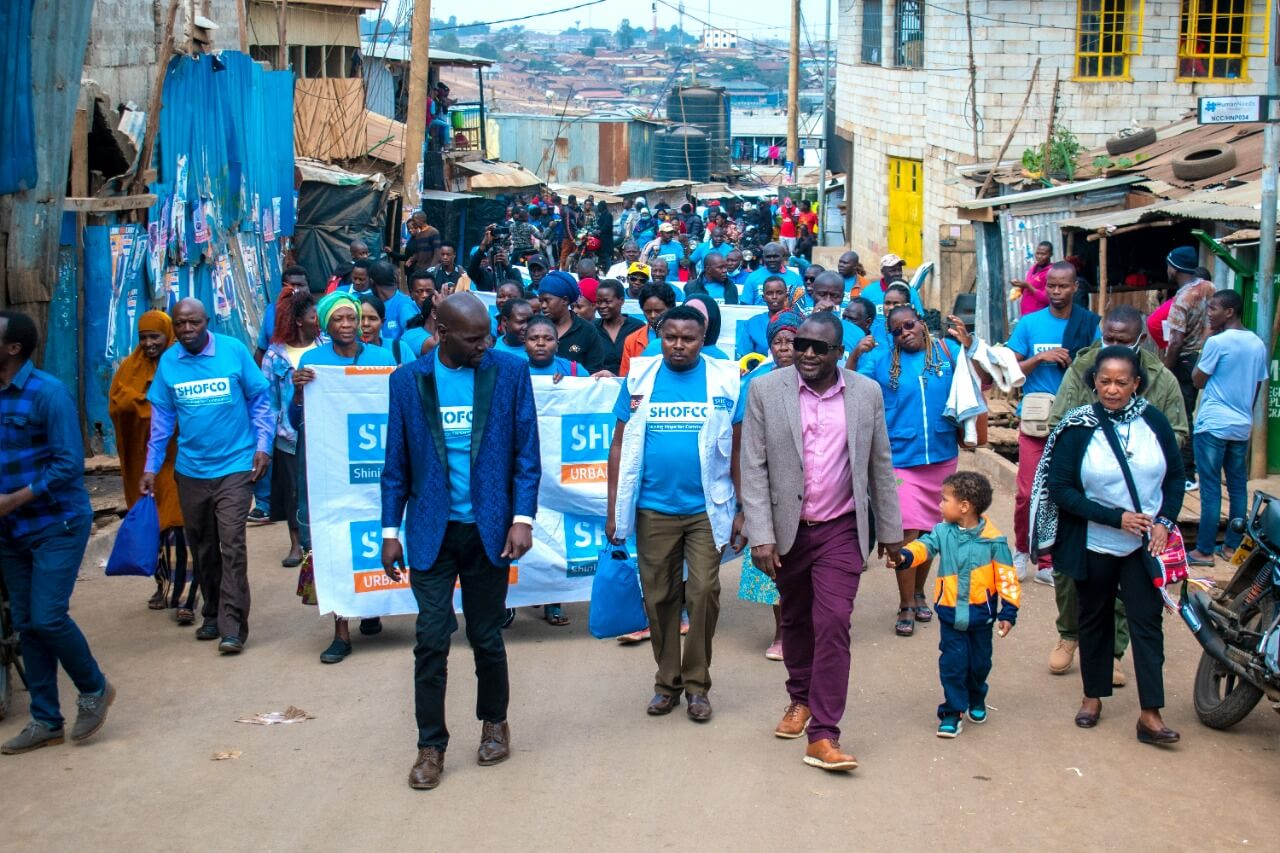 Historically, Kenya's slums have been a flashpoint for election-related violence. Leading up to the August presidential election, many SHOFCO communities hosted candidate forums, voter registration drives, and peace rallies. When the results came in, there was no unrest in the slums. "It's a hugely proud moment for Kenya," says Bridgespan partner Jan Schwier.
Photo: SHOFCO
Importantly, SHOFCO has 1.4 million SUN members. It expects to reach its new goal of 2.4 million members well in advance of its 2025 target date. SHOFCO has also convened a Global Alliance for Communities—a network of 150 grassroots organizations—to share ideas for community-led development.
Schwier attests to a "groundswell of change" surrounding SHOFCO—a shift in the paradigm about how to systematically change the entrenched nature of urban poverty in Kenya and beyond. "All of these ideas center, in the end, on thesame principle: listen more to what people want in their lives," he says.