The 1954 Project
Helping Black Leaders Dream Bigger
Transforming how philanthropy engages with Black leaders.
---
Why Black children need Black teachers
Black teachers are 40 percent more likely to expect Black students will graduate from high school.
Having at least one Black teacher in the 3rd through 5th grades reduced low-income boys' chances of dropping out of high school by 39 percent.
Black children are three times more likely to be placed in gifted programs if they have a Black teacher.
From www.1954project.org.
Liz Thompson hasn't forgotten how it felt to knock on doors for funding in her early executive director roles. In the mid-1990s, she was one of few Black women in Chicago appealing to the vision and generosity of CEOs. "I didn't have the skills. I didn't have the network," says Thompson, who grew up in Chicago's Cabrini-Green housing project. "When I went to meet these guys, they didn't know me, and I didn't know them. I didn't look like their daughter, their granddaughter. There was just not a lot that connected us."
Thompson persevered, and those CEOs got to know her through her dogged efforts to launch City Year Chicago. Two decades later, in 2014, Thompson and her husband Don founded The Cleveland Avenue Foundation for Education, or The CAFÉ, which invests in organizations focused on college access and career readiness. But the same challenge persisted: the organizations the CAFÉ found, often led by leaders of color, struggled to secure funding at a rate commensurate with their white-led peers. These leaders felt shut out of rooms and excluded from conversations.
Thompson knew she could do more with her social capital. "We now have relationships with many incredibly generous people and organizations that understand the challenges," she says. "I am more than willing to pick up the phone and say, 'Hey, there's this organization I want you to meet.'" Thompson wanted not only to help these organizations secure funding, but also to shift how philanthropy approaches leaders of color.
One person Thompson called: Bridgespan Partner Nithin Iyengar, with whom she'd made a deep connection while serving on a committee. Iyengar was thrilled to take that call. "Whatever Liz needed, we were excited—and trying to figure out how best to support her," says Iyengar.
Bringing Thompson's concept to fruition
Learning from the founder
Bridgespan interviewed Liz Thompson for our 2021 Releasing the Potential of Philanthropic Collaborations report. Among philanthropic collaboratives, her organization, The 1954 Project, is unique, both for its focus on Black nonprofits as well as for Thompson's leadership role in determining how funds get directed and used.
In the following months, a Bridgespan team helped Thompson devise The 1954 Project, which Thompson named to draw attention to a consequence of the 1954 Brown v. Board of Education Supreme Court decision: when Black children were integrated into white schools—and not the other way around—tens of thousands of Black teachers lost their jobs. The resulting dearth of Black educators endures: in 2017, while nearly 15 percent of all public school students in the United States were Black, only seven percent of teachers were Black—and less than two percent identified as Black male.[1]
For Thompson, working with the Bridgespan team to bring her concept to life was a rigorous exercise. "I mean, this was not a baked idea," she says. "[Bridgespan] pulled things out of us, they pushed us, they pressed us to think about, how's this going to work?"
Before long, Thompson had a plan for a large-scale philanthropic initiative—the Luminary Awards, administered by the 1954 Project—that would elevate promising Black nonprofit leaders in education. But neither she nor Iyengar were ready to stop collaborating. "The 1954 Project has the potential not only to transform what Black entrepreneurs are doing in nonprofits, but also to shape how philanthropy differently engages with Black leaders," says Iyengar.
Room at the table
While Liz Thompson, founder of the 1954 Project, believes it's crucial for those with lived experience to lead on solutions, she sees a place for everyone at the table. As she reflects on the 2020 racial reckoning that saw an exodus of white leaders from nonprofits, she rues losing people who said, "'I don't know what my role is anymore.'" "Your role is the same as what it's always been—helping to drive impact," Thompson says. "But we cannot continue this work without having Black people at the table, too, because you don't experience the 'thing' in the same way we do. We all need a place at the table for the solutions to be the most robust that they can be."
The barriers are real
Bridgespan has written extensively about the barriers Black-led organizations face, finding that, among early-stage organizations, the revenues of Black-led organizations are 24 percent smaller than those of their white-led counterparts. When it comes to the holy grail of financial support—unrestricted funding—the picture is much bleaker: the unrestricted net assets of Black-led organizations are 76 percent smaller than those of white-led organizations.[2]
Knowing that Black-led nonprofits are starved for resources, the 1954 Project aims to be Black educational leaders' first seven-figure gift. Meant to support their exemplary educational efforts, it is offered with the hope that such a gift will be a gateway for larger funding from other donors.
Luminaries light the way
The first five "Luminaries," as 1954 calls its recipients, were named in March 2021. Each received $1 million and a strategic assessment from a Bridgespan team to highlight strengths and gaps in their existing strategy. Five finalists were also selected for grants and strategic assessments. The second cohort of Luminaries and finalists was named in March 2022.
The Luminaries' work is often grounded in personal experience. Nicole Lewis was a young mom when she created Generation Hope, a program designed to ensure all college students who are parents have opportunities to succeed and experience economic mobility. And Chicagoan Jamyle Cannon, who credits coaches for helping him stay on track as a teen, uses boxing to provide educational and social resources to youth in his hometown through The Bloc, which he founded in 2016.
In November 2021, Thompson convened Luminary Award recipients for the first time. Over two days, she learned they worried about attracting and earning the trust of and extraordinary investments from donors who could enable them to transformationally scale up their impact. In response, she asked Bridgespan to visit each Luminary and conduct a strategic assessment to identify strengths and weaknesses and close gaps to prepare them for future diligence efforts.
Making an impact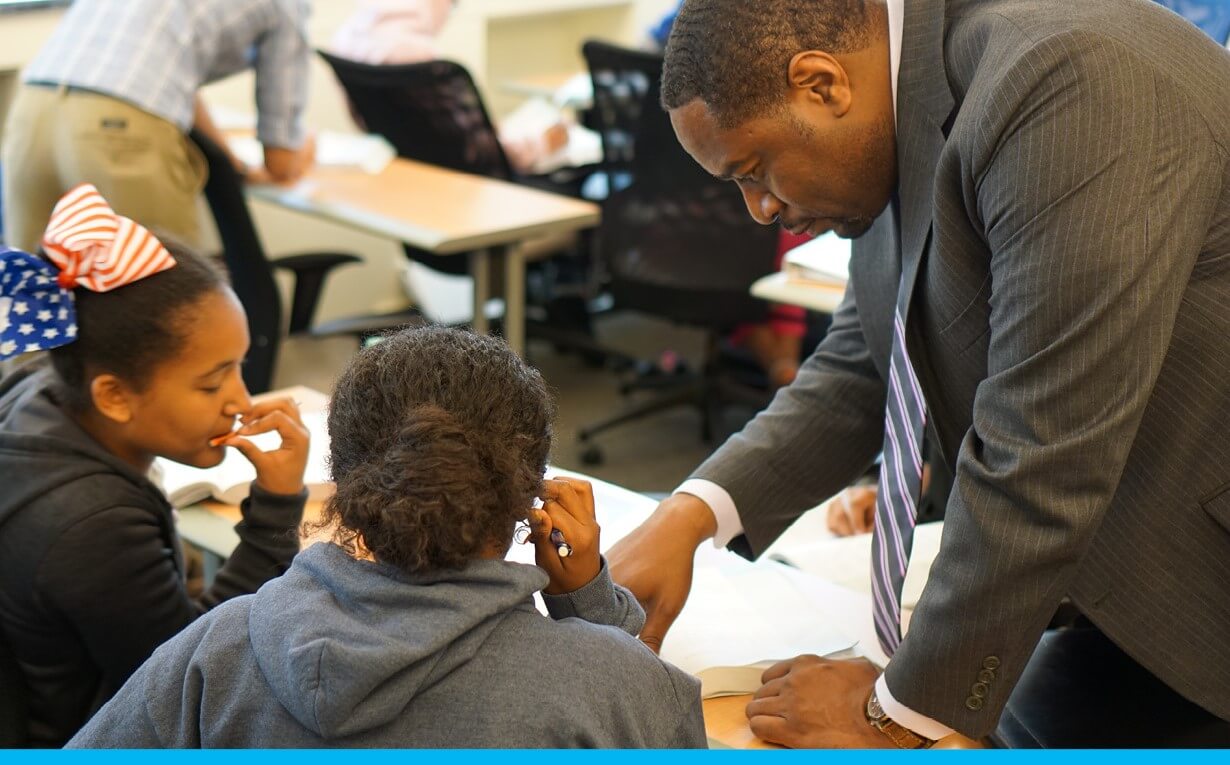 1954 has given The Calculus Project Founder and CEO Dr. Adrian Mims "a serious brotherhood and sisterhood. It's like a think tank when we come together," he says. "This is a lonely place. There are not too many Black men out here doing stuff around math. So, it's been good." Photo: The Calculus Project
Thompson is still out there pounding the pavement—and philanthropy is taking notice. In October, Thompson was a plenary speaker at the popular Grantmakers for Education Conference, where she shared what the 1954 Project has learned about how donors can elevate the work of innovative Black leaders.
"One of the strongest indicators we are making a difference was when one of our largest funding partners said to us, 'Forty percent of the Luminaries you have identified were never on our radar,'" says Thompson. She's doing everything she can to end that anonymity and elevate outstanding organizations.
For Adrian Mims, a lifeline
The 1954 Project "saved me," says Dr. Adrian Mims. "They literally did." Since 2009, Mims has pursued his idea for The Calculus Project (TCP), which provides tutoring and programming to help students of color get through calculus in high school (an important benchmark for contention at top colleges). TCP has been wildly successful in several Massachusetts and Florida districts, but a number of schools were no longer implementing the model correctly. Cowed by COVID, Mims was struggling both for funding and compliance.
Mims was eyeing his 401(k) account to keep TCP going when 1954 called. With the Luminary Award, he hired a strong second-in-command and reclaimed his intellectual property. He is building a consortium of TCP districts and an advisory council to ensure the program is implemented with integrity. A New Yorker article recently featured Mims as an expert voice for building equity in the field of math.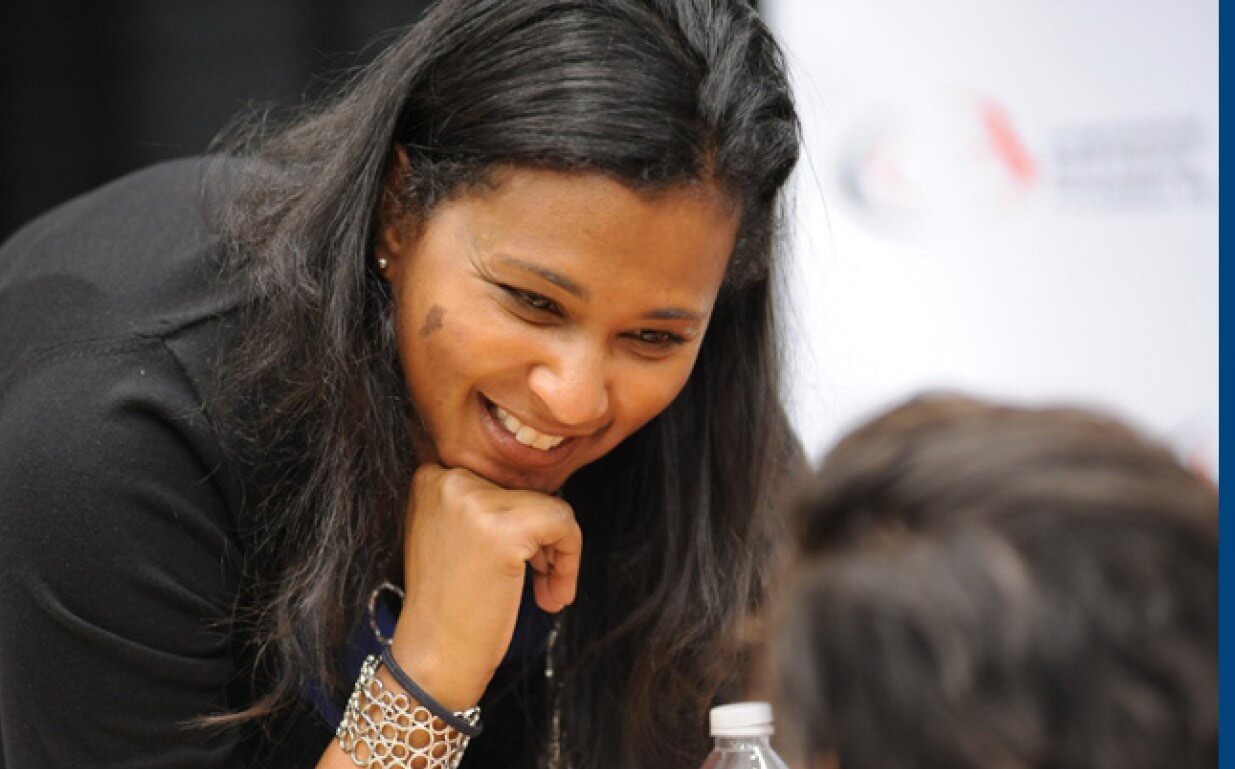 "How you actually solve problems in communities is having people who are in proximate understanding and have the bandwidth," says Braven Founder and CEO Aimée Eubanks Davis. But for Black leaders with that understanding, the bar for funding is higher. "You need something like 1954 to help Black social entrepreneurs in education be able to have some runway to grow their models or innovate." Photo: Braven
For Aimée Eubanks Davis, a chance to innovate
For Aimée Eubanks Davis, the Luminary prize was a chance to experiment. Since 2013, Braven has offered coursework and mentoring to Black and Brown college students to develop their skills, confidence, experience, and networks so they can land a quality first job out of college.
But Davis, who had arrived at her original plan for Braven through a series of experiments (detailed in the 2018 book Social Startup Success), was ready to try one more: bringing Braven to historically Black colleges and universities (HBCUs). "For nonprofits in general, but especially if you are Black, there is no room for innovation," says Davis. "There's no room for experimentation. You get barely any dollars anyway."
"Liz wasn't afraid to invest in me as an entrepreneur," Davis continues. Thompson's calculated strategy is already looking good: Braven is now working with all 500 sophomores at Spelman College, and is in talks with a second HBCU. Davis asks: "Can we get a Spelman woman out of college earning an entire dollar instead of 50 cents on the dollar?" As the internships start bubbling up for her first Spelman class, Davis is banking on it.
Notes
1. Sharif El-Mekki. "To Achieve Educational Justice, We Need More Black Teachers." EdSurge.com, September 9, 2021. El-Mekki is a 2021 Luminary Award recipient and founder and CEO of the Center for Black Educator Development. He estimates that to achieve proportional equity between Black teachers and Black students, we need an additional 280,000 Black teachers in US public schools. El-Mekki aims to add 21,000 Black students to the teaching pipeline in the next decade.

2. Based on Echoing Green applicant information, 990 form data from Guidestar, and analysis included in The Bridgespan Group's Racial Equity and Philanthropy: Disparities in Funding for Leaders of Color Leave Impact on the Table, 2020.