The Campaign to End Chronic Underfunding of Nonprofits
Bridgespan's Journey from the Starvation Cycle to Building Nonprofit Capacity
---
Funders for years have been aware of the "starvation cycle" that leaves grantees scrambling to cover all of their indirect costs. Mounting evidence of the harm done by underfunding these essential expenditures inspired the presidents of five major foundations to join forces in 2017 to seek a solution. Their collaborative effort led to the development of a menu of approaches to address chronic underfunding of nonprofits' indirect costs. Bridgespan's research and advocacy helped to spark and sustain this multiyear effort.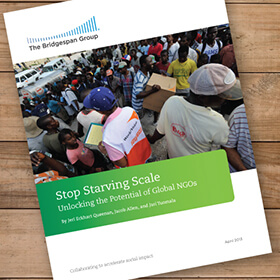 "Stop Starving Scale: Unlocking the Potential of Global NGOs," Bridgespan.org In our client work a decade ago, we frequently heard concerns about unfunded indirect costs, so we invested in research to understand the issue better. That work led to "The Nonprofit Starvation Cycle," published in Stanford Social Innovation Review in 2009. The article described how funders often had unrealistically low assumptions about grantees' administrative and operational costs, and nonprofits seldom understood or championed full funding of those costs. In the absence of reliable indirect-cost data, funders typically opted to cap those costs at 15 percent or less.
Underfunding is also a familiar issue globally, which we wrote about in our report, "Stop Starving Scale: Unlocking the Potential of Global NGOs." When we interviewed more than two dozen NGO leaders in 2012, they identified tight-fisted reimbursement for indirect costs as the biggest obstacle blocking needed upgrades in staff capacity and critical infrastructure. Without adequate support, they struggled to meet their funders' goals. As one program officer we interviewed for further research on funder collaboratives put it, "This has led to a hollowing out of civil society institutions…at a time when they are critically important."
Bridgespan's ongoing research and writing on this topic contributed to a national dialogue on adequate funding for indirect costs. For its part, the federal government rewrote its contracting rules in 2014 to ensure for the first time that all nonprofits receiving federal grant money—either directly or passed through state or local governments—also receive at least 10 percent reimbursement for their overhead costs.
Additionally, the CEOs of the three leading nonprofit ratings agencies—BBB Wise Giving Alliance, Charity Navigator, and GuideStar—launched the "Overhead Myth" campaign with an open letter that called overhead "a poor measure of a charity's performance" and asked donors to also "pay attention to other factors of nonprofit performance: transparency, governance, leadership, and results."
In 2016, Bridgespan joined with the presidents of five foundations—Ford, Hewlett, MacArthur, Open Society, and Packard—to dig deeper into the impact of underfunding on the financial health of nearly 300 grantees that account for a third of the combined spending of the top 15 US foundations. Given the prominence of these nonprofits, many of which are household names, the results came as a surprise. More than half (53 percent) suffer from frequent or chronic budget deficits—defined as occurring in at least two of the past five years. And 40 percent have fewer than three months of reserves (specifically, liquid unrestricted net assets) in the bank to cushion financial shortfalls. In fact, 30 of the 300 organizations showed no reserves—making them technically insolvent.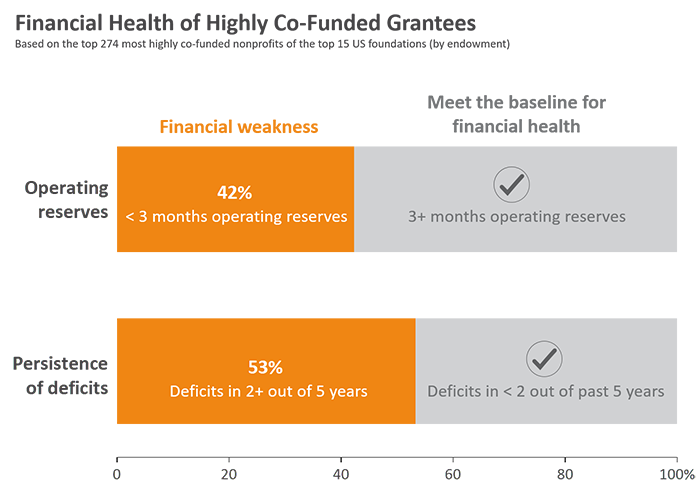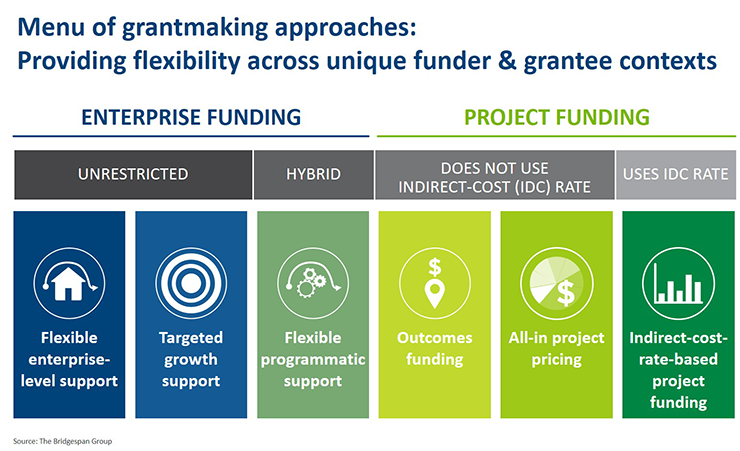 2016 research results with the five foundation presidents
With so many of the nation's leading nonprofits on shaky financial footing, we proposed a new way to think about funding that supports strong programs and strong organizations. With the Ford Foundation, we developed a simple Grantmaking Pyramid, which rests on a sturdy foundation of essential organizational capabilities, followed by a strong balance sheet, and is capped by delivery of programs that improve people's lives. We laid out the details in "Time to Reboot Grantmaking," published by Stanford Social Innovation Review in 2017.
The cumulative evidence of harm done by chronic underfunding laid the groundwork for the five foundation presidents to collaborate on finding a solution. Bridgespan participated in the collaborative as a facilitator and provided advisory and analytical support. New research among a sample of the funders' grantees showed that their indirect costs exceeded what the foundations actually paid by an average of 17 percentage points.
The presidents concluded that project grants, which represent over three-quarters of US foundation giving and nearly all government funding globally, are responsible for most of this underfunding. While project grants are an essential tool in philanthropy, they routinely discount the core administrative and operational costs of delivering programs and services.
While careful to say that they don't have all the answers, the presidents came to an unprecedented agreement to experiment with a range of solutions, which we detailed in "Five Foundation Leaders Address the 'Starvation Cycle.'" They proposed a menu of six voluntary grantmaking options, ranging from totally flexible enterprise-level grants to project grants that offer sufficient coverage for both direct and indirect expenses. In each instance, the overarching goal is to "do no harm" to the grantee's financial health and ensure coverage of actual costs.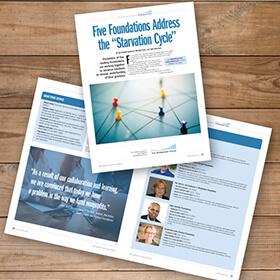 "Five Foundation Leaders Address the 'Starvation Cycle," The Chronicle of Philanthropy The presidents have pledged to take steps within their own organizations to shape funding policies and practices consistent with the menu of options. They also reached out to peers to join, in their words, "in a collective effort to build stronger, more durable, and more effective organizations." They succeeded in laying out a roadmap for addressing the starvation cycle. Now they seek fellow travelers on the journey ahead.
Concurrently, Bridgespan has committed to working with global funders and NGOs to develop adaptable funding approaches that address indirect costs, taking into account the diversity of national contexts and the on-the-ground needs of civil society organizations. To that end, our Mumbai staff currently is working with innovative funders in India to find solutions to chronic underfunding of that country's NGOs.
Bridgespan's decade-long commitment to ending the starvation cycle has helped to change the sector-wide conversation from defining the problem to advocating for solutions. We will continue on this journey—working alongside the funders, nonprofits, and NGOs—to refine our understanding and champion a range of approaches that cover grantees' indirect costs for delivering vital programs and services.
Created: August 2020