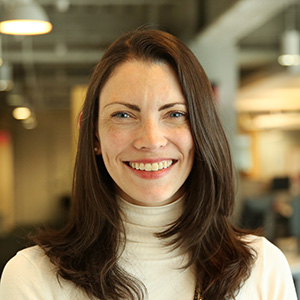 Alexandra Jaskula-Ranga
Manager, Boston
---
Alexandra Jaskula-Ranga is a manager in Bridgespan's Boston office. Since joining Bridgespan in 2019, she has worked with nonprofits in the fields of health equity, economic opportunity, nonprofit networks, and more. Her advisory work focuses on nonprofit strategic planning, new program development, implementation support, and philanthropic strategy. Alexandra has also worked as a facilitator and coach with nonprofit leadership teams in Detroit via Bridgespan's two-year consulting and capacity building program for nonprofit executive teams, Leading for Impact®. She co-authored "Making Sense of Uncertainty: Nonprofit Scenario Planning" to assist nonprofits in the early months of the COVID-19 pandemic.
Prior to joining Bridgespan, Alexandra spent a decade in the nonprofit sector, most recently as vice president of strategic consulting at Opportunity Finance Network, a national network of community development financial institutions (CDFIs). In this role, she managed capacity building initiatives for CDFIs advancing racial equity, community health access, and small business ownership. Alexandra started her career as an AmeriCorps*VISTA at a microlender in Philadelphia and also worked at the headquarters of an international humanitarian agency supporting a professional development program.
Alexandra received her MBA from Villanova School of Business. She has a BS in Economics and a minor in Peace and Justice from Villanova University.