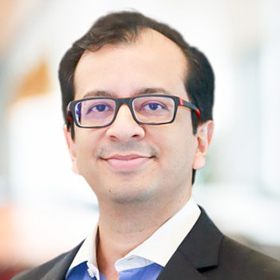 Anant Bhagwati
Partner, Mumbai
---
Anant Bhagwati served for the last three years as the director for capacity building and expertise at Dasra, India, focused on strategic philanthropy, building institutions, and field building, including the Social Compact collaborative for migrant workers.

Prior to his role at Dasra, Anant was a partner at Bain India, where he co-led Bain's digital-enabled transformation practice and worked across sectors. A few elements have continued to excite him throughout his nearly 20-year career in FMCG and Consulting: learning from and teaching others about new concepts, solving problems creatively by being close to the frontline, and working with teams to convert strategy into results.
Anant is passionate about merging business consulting insights, with a focus on equity and inclusivity. He sees social sector consulting as the key to enabling disruptive strategies, bolder aspirations, and non-linear operating models and platforms.

Anant enjoys writing and speaking on insights from his work. He has written for publications including Forbes and The Economic Times and has co-authored the "Bain India Philanthropy Report" multiple times.