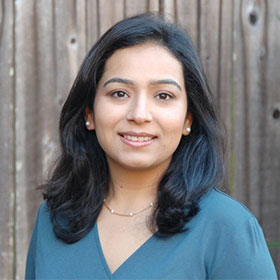 Avi Khullar
Senior Manager, San Francisco
---
Avi is a senior manager in the San Francisco office. She has spent more than 15 years serving and advising mission-driven organizations on programmatic and organizational strategy, operations, performance measurement systems, and grantmaking strategy. Avi's work has spanned multiple domains, including philanthropy, K-12 education, child welfare, and criminal justice systems. Avi actively incorporates the principals of user-centered design and systems thinking to maximize impact for intended beneficiaries.
Prior to Bridgespan, Avi was the chief solutions officer at Mission: Cure, where she led the design and implementation of outcome-based care strategy that was co-created with input from patients, health care providers, and scientists.
Previously, Avi held multiple roles at the Stuart Foundation in San Francisco to maximize foundation impact, including the design and development of a strategy and impact framework calibrated for Foundation's grantmaking goals and priorities. At New York City Administration for Children's Services, Avi served as the assistant commissioner and was responsible for agency-wide performance measurement systems. While there she also created an internal consulting team to use data-driven strategies to deliver better outcomes for youth and families.
Avi holds an MBA from the Rotman School of Management and a BASc in electrical engineering from the University of Toronto.