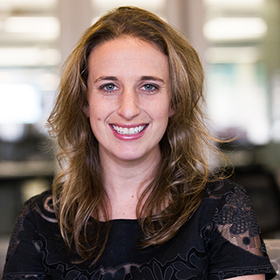 Aviva Altmann
Principal, San Francisco
---
What I care about:
People. My relationships with others are what gets me up every morning. I am honored to have the opportunity to support incredible people and leaders– our clients, and our team members. I've seen the power that supportive relationships can have on changing individuals' life trajectories in my work and research at Bridgespan. I personally credit my own good fortune and opportunities to the support I've had from many mentors, friends, and family. And most importantly, I care about my daughter; her laughter and joy make my world, and I come to this work every day hoping to help create a better world for her.
What I bring to this work:
In my career before Bridgespan, I was fortunate to develop and lead the after school programs for Green Dot Public Schools in Los Angeles. I am so grateful for the relationships I built through that experience – with principals, with teachers, with after school staff and community leaders, and most importantly, with student leaders. I am so grateful for the many hours I got to share laughing with and learning from our students, and for having had the opportunity to watch them blossom into leaders. I'm lucky to be able to continue to support students, educators, and nonprofit leaders here at Bridgespan, and bring the inspiration I got from working with our students at Green Dot with me into my work every day.
My favorite projects:
While I've had the honor of supporting a wide range of incredible leaders and organizations in my time at Bridgespan, my favorite projects have been those that enabled me to tap back into my education experience: working with the Noble Network of Schools, EdFuel, and doing research on strategies that support students, especially students of color, to excel in K-12 and postsecondary education.
My expertise:
Education
What I do outside the office:
Explore the outdoors and enjoy the beauty of California, together with my husband and daughter.
Publications: