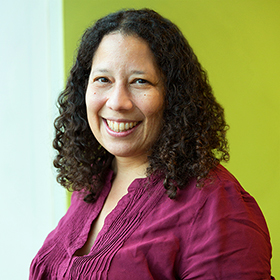 Cora Daniels
Senior Editorial Director, New York
---
Cora Daniels is a senior editorial director in the New York office. She works with Bridgespan teams to develop feature articles, blog posts, op-ed pieces, and various forms of multimedia storytelling as part of the firm's commitment to make its research and insights accessible and available to benefit work across the social sector.
Cora writes frequently about issues of equity and justice and is also a member of the Bridgespan production team behind
Dreaming in Color: Creating New Narratives in Leadership
. As part of the firm's commitment to advance racial equity in philanthropy, her recent publications include: "
Philanthropy's Role in Reparations and Building a Culture of Racial Repair
" (Bridgespan.org, 2023),
Unlocking Social Progress by Addressing Structural Racism
," in collaboration with the Racial Equity Institute (Bridgespan.org, 2022); "
What Everyone Can Learn From Leaders of Color
" (
Stanford Social Innovation Review
, 2022);
Making the Case: Philanthropy's Role in the Movement to Reimagine Criminal Justice
(Bridgespan, 2022); "
Ahead of Mother's Day, Let's Remember and Support Moms Behind Bars
" (
The Chronicle of Philanthropy
); a joint research project with PolicyLink:
Moving from Intention to Impact: Funding Racial Equity to Win
(Bridgespan, 2021), and a joint research project with Echoing Green: "
Overcoming the Racial Bias in Philanthropic Funding
" (
Stanford Social Innovation Review
, 2020) and
Racial Equity and Philanthropy: Disparities in Funding for Leaders of Color Leave Impact on the Table
(Bridgespan, 2020). She was also a collaborator on the "
Equitable Philanthropy Case Study: The 1954 Project Approach
" (Bridgespan, 2023). Cora is also a part of Bridgespan's field building research including co-authoring: "
Equitable Systems Change: Funding Field Catalysts from Origins to Revolutionizing the World
" (Bridgespan, 2023) and its companion article, "
Field Catalyst Origin Stories: Lessons for Systems-Change Leaders
" (Bridgespan, 2023);
How Philanthropy Can Support System's Change Leaders
(Bridgespan, 2021) and
Field Building for Population-Level Change
(Bridgespan, 2020).
Cora is also an award winning journalist and author. Prior to Bridgespan.org, she was a long-time staff writer at Fortune Magazine where she often wrote about issues of gender and race in the workplace. In addition she has been an editor at Working Mother magazine and Consumer Reports as well as a contributing writer at Essence magazine. Her work has also appeared in the New York Times magazine, Fast Company, O: The Oprah Magazine, Men's Fitness, and USA Today. Most recently she was a member of the journalism faculty at New York University teaching both graduate and undergraduate students.
Cora is the author of three books that include Ghettonation: A Journey into the Land of the Bling and Home of the Shameless (Doubleday), Black Power Inc. (Wiley), and Impolite Conversations: on Race, Politics, Sex, Money, and Religion (Simon & Schuster), which she co-authored.
A sought after thinker on issues of race and business she has served as a commentator on ABC News, CNN, CNBC, MSNBC, BET, PBS, and NPR.
Cora is a native New Yorker and lives in Brooklyn with her husband and two children. She holds a BA in history from Yale University and an MS in journalism from the Columbia University School of Journalism.