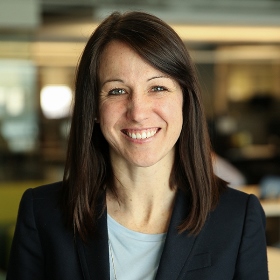 Erica Kelly
Principal, San Francisco
---
What I care about: I care deeply about people. People on my teams. People that I have the opportunity to come alongside and work with. And people that face a world with unequal opportunity and resources.

What I bring to this work: I was raised in a combination of the DRC, Lesotho, Kenya, and the US by parents who moved their family all over the world because of a deep and faith filled commitment to righting the wrongs of inequity they saw. I was exposed to innovation and beauty alongside deep poverty, while also getting the opportunity to form relationships with people from all over the world. I've since spent a lot of time in consulting – for profit organizations, nonprofits, and philanthropies (including a three month project in Myanmar with a micro-finance org!). And I'm hopeful that my upbringing and experiences have helped me to be a better and more dedicated listener, advisor, and friend.

My favorite projects: My work with The Rise Fund (and the Bridgespan people on that team) as an extern from Bain brought me over to Bridgespan and continues to hold a special place in my heart. I also had the opportunity to work with the African Leadership Group, which included a trip 'home' for me to Kenya and felt like a once in a lifetime type project.

My expertise: Impact investing, philanthropy sourcing and diligence, global development.

What I do outside the office: I recently relocated from our Boston office to our San Francisco office, and have loved hiking, biking, and eating my way through the California coast. My husband, David, and I enjoy finding city hikes to do with our dog, cooking new recipes from around the world, and exploring new places.

Education: I have a Master of Public Policy from Harvard Kennedy School, and a BA in International Business from Azusa Pacific University.