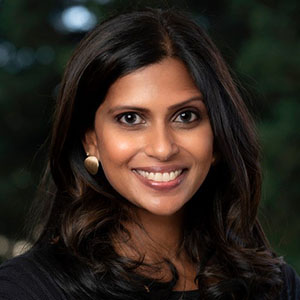 Gihani Fernando
Partner, Head of Strategic Planning and Operations, San Francisco
---
Gihani is a partner based in Bridgespan's San Francisco office and serves as Bridgespan's head of strategic planning and operations. She returned to Bridgespan in October 2023 and previously spent almost a decade in Bridgespan's advisory practice (2006-2014) leading strategic planning engagements for several mission-driven organizations and foundations with a focus on education and youth development. During that time, she also co-led the firm's 2014 knowledge campaign around social and emotional learning and served as Bridgespan's first talent manager in 2013.
Prior to rejoining Bridgespan, Gihani was the vice president of strategy and board affairs at the Silicon Valley Community Foundation. In this capacity, she supported strategy development and implementation across the organization in addition to managing board engagement efforts. Before that, Gihani was part of the executive team at Playworks, where she focused on developing and executing a partnerships strategy to help a range of organizations integrate practices and mindsets to support safe and healthy play for all children.
Gihani started her full-time career in public finance investment banking and has also worked as a consultant to the World Bank. She holds a B.A. from Stanford University with a major in economics and a minor in management science and engineering as well as an M.B.A. from the Haas School of Business at the University of California in Berkeley.
Gihani is a co-author of two publications which were featured in the Stanford Social Innovation Review titled "Rethinking How Students Succeed" (February 2015) and "High Stakes Donor Collaborations" (Spring 2013). She also co-authored a piece on offshoring of professional services to Sri Lanka as a development opportunity during her consultancy at the World Bank.
She lives in Oakland with her husband and son and was a founding member of the diversity, equity, and inclusion committee at her son's school in Oakland Unified School District. She has served on the board of ARISE High School in Oakland and is currently on the national board of Raising A Reader in addition to being a program advisor to Reading Partners and Niroga Institute.