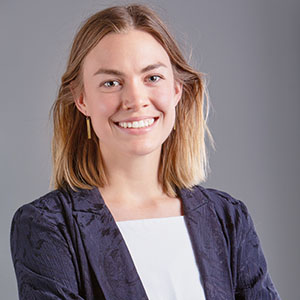 Hannah Benn is a manager in the Bridgespan Africa office in Johannesburg, serving philanthropy and non-profit sectors, alongside impact investing clients. Hannah has a strong focus on organizations furthering socially and ecologically sustainable development across Africa. She supports the establishment of multi-stakeholder partnerships and the design of sustainable financing solutions to achieve this goal. Hannah has wide sectoral expertise to support the Climate and Environment impact area (sustainable livelihoods, climate mitigation and adaptation, as well as food and water security).
Prior to joining Bridgespan Hannah was an engagement manager with Pegasys, a public sector advisory firm for governments and partners in developing economies. She provided technical assistance for natural resource management, climate change planning and readiness, as well as sustainable infrastructure. She specialized in designing public-private financing solutions to increase the implementation capacity in these areas. Hannah also developed research to encourage the uptake of critical approaches to sustainability by national and local government, for example by supporting WWF South Africa in highlighting The Economic Case for a Circular Plastics Economy in Africa: Findings and Recommendations for Cote d'Ivoire, Kenya and South Africa, and by advocating for Urban Agriculture and Green Infrastructure as key assets for inclusive urban development in the Gauteng City-Region.
In her spare capacity, Hannah provides mentorship and oversight to the Nature for Water Facility, a technical assistance facility supporting watershed and river basin investment programs. She also sits on the board of Big Circle Studios, a grassroots circular economy non-profit in Johannesburg.
She graduated from the University of Cape Town with a BSc Hons in Environmental and Geographical Science, and then from the University of Edinburgh with a MSc in Ecological Economics.