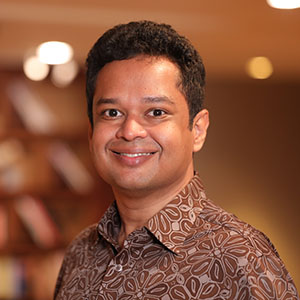 Keeran Sivarajah
Partner, Singapore
---
Keeran Sivarajah is a partner at The Bridgespan Group, based out of its Singapore office. Over the past 15 years, Keeran has advised foundations, donor agencies, governments, the private sector, and NGOs on some of their most important social and environmental questions, with an increasing focus on reviewing and developing strategies, designing complex programs, and evaluating the impact of organizations. He has worked primarily with impact actors in Southeast and East Asia, and his experience in these regions ranges across sectors, with an emphasis on Education and Inclusive Development.
Keeran's recent work in Education includes designing an ambitious, country-level, teacher education intervention for a major Southeast Asian foundation to advance student outcomes and reviewing and refining a national career-planning program for Asia's largest foundation, aimed at expanding pathways for youth employment in an East Asian country. His recent work at the intersection of Inclusive Development and Public Policy includes designing a tourism investment strategy for a lower middle-income country in the Pacific and advising a Southeast Asian sovereign wealth fund on strategies to optimise for critical health and food supplies during national emergencies, as part of their COVID-19 response.
Before joining The Bridgespan Group, Keeran worked with Dalberg and The Boston Consulting Group in Southeast Asia, helping philanthropic organizations, government ministries, and state-owned enterprises in the region on their socioeconomic transformation and impact agendas. He is also a co-founder of Teach for Malaysia, and led the NGO's management and organisational design at its inception. Keeran holds degrees from the University of Melbourne and Harvard University, where he graduated with distinction as a Wendy & Philip Kistler Scholar. He is an advisor to several NGOs in his home country, Malaysia.