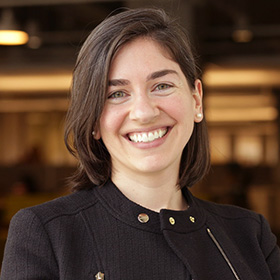 Kristen Loureiro
Partner, Boston
---
Kristen is a partner in Bridgespan's Boston office. She has collaborated with nonprofits and philanthropists on strategy and organizational development, with a particular focus on sourcing, diligence, and scaling strategies to craft and execute "big bets." Kristen's experiences span across a number of areas within the social sector, including education from early childhood to college completion, workforce development, public health, and global health. Kristen has also worked with large national and international nonprofit networks on topics including strategy and portfolio planning, business operating model transformation, and governance and organization design.

Prior to Bridgespan, Kristen was a Project Leader at the Boston Consulting Group, where she was the Boston office Social Impact Focal Point. Before BCG, Kristen was Manager of Strategic Accounts at Move, Inc., where she was responsible for executing strategic growth initiatives across Move's online and offline product channels.

Kristen holds a MBA from the Tuck School of Business at Dartmouth. She received a BA in International Relations with a minor in Child Development from Tufts University.