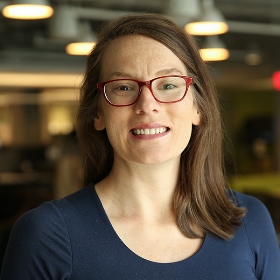 Lindsey Waldron
Principal, Boston
---
Lindsey is a principal in Bridgespan's Boston Office. Since joining the organization in 2014, she has worked with a variety of nonprofit and philanthropic clients on strategic planning and execution. Her clients include funders, collaboratives, large network operators and affiliates, and direct-service nonprofits focused on issues including education, child welfare, and public health. She has also worked on the development and facilitation of Leading for Impact®, Bridgespan's two-year consulting and capacity building program for nonprofit executive teams.

Building on her extensive experience advising nonprofit leaders, Lindsey recently led Bridgespan's initiative to refresh and disseminate a library of resources on topics fundamental to nonprofit strategy, including "How Nonprofit Leadership Development Sustains Organizations and Their Teams," "What Are Intended Impact and Theory of Change and How Can Nonprofits Use Them?" and "How Nonprofits Can Map Their Programs to Their Strategy." In the wake of COVID-19, she also co-authored "A Compass for the Crisis: Nonprofit Decision Making in the COVID-19 Pandemic" and "Making Sense of Uncertainty: Nonprofit Scenario Planning During a Crisis."

Prior to joining Bridgespan, Lindsey was a fellow with Education Pioneers, during which she served as a project manager at Education for Change Public Schools, a growing charter management organization in Oakland, California. She has also spent time in the classroom as both an English professor at a university in Santiago, Chile and as a Citizen Teacher in the Boston Public School System. In addition to her experience in the nonprofit sector, Lindsey spent many years at PwC and Bain & Company.

Lindsey earned her MBA from the Kellogg School of Management at Northwestern University and a Bachelor of Science in Business Administration from the University of Richmond. Outside of work, Lindsey can be found enjoying time with her family and staying active outdoors.