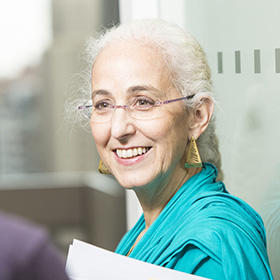 Liz London
Senior Director, Media and Conferences, New York
---
Liz London is a Senior Director at the Bridgespan Group's New York office.
Liz London joined The Bridgespan Group in May 2009. Prior to coming on board at Bridgespan, Liz was a senior vice president at Fenton Communications, a public interest communications firm offering media relations, messaging and branding, advertising and communications planning services.

Liz spent nearly two decades before that working in government in the NYC Mayor's office, running the district offices of a NYC Congressman and with the Metropolitan Transportation Authority, and in the nonprofit sector as a fundraiser.

Liz holds an MIA from Columbia University's School of International and Public Affairs and a BA from the University of Pennsylvania.