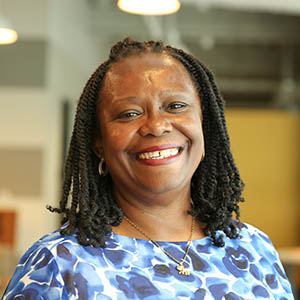 Marcia Brown
Director of Marketing, Boston
---
Marcia is Bridgespan's marketing director and is based in its Boston office. In her role she leads the organization's marketing strategy. As brand steward, Marcia works collaboratively across units and geographies on key marketing initiatives consistent with Bridgespan's voice and overall goals.
As a global consumer marketer, Marcia managed a variety of brands at Coca-Cola, Colgate-Palmolive and Namaste Laboratories. Working domestically and internationally, Marcia has developed an understanding of the nuances of diverse markets, leveraging differences and common denominators to drive long-term brand preference and growth. As an entrepreneur, Marcia guided business strategy and marketing initiatives for organizations in a wide range of industries, including nonprofits. Her work with a regionally based nonprofit, which is focused on secondary schools, helped amplify the dearth of people of African descent in the STEM pipeline–from elementary school to the workplace. This helped set in motion, a supplementary STEM program that targets elementary-age school children.
She currently serves on the board of the nonprofit Fondation Enfant de Jesus. Based in Haiti, its mission is to create sustainable communities by offering opportunities for education, improved health, and self-sustaining employment. The organization also operates a primary school and crèche for orphaned children.
Marcia holds a BA from Brown University in Organizational Behavior and an MBA from The University of Chicago Booth School of Business in Marketing, Finance, and Health Administration.