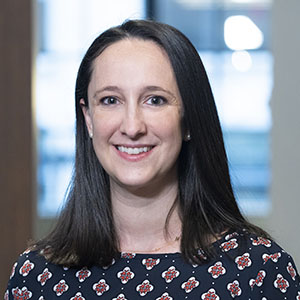 Mariah Collins
Partner, Boston
---
Mariah Collins is a partner in The Bridgespan Group's Boston office. Mariah lead's Bridgespan's Measurement, Evaluation, and Learning Area of Expertise and co-leads the Public Health Area of Expertise. She has experience working with philanthropists, donor collaboratives, foundations, nonprofits, and impact investors.
With her philanthropy clients, including the Bill and Melinda Gates Foundation, the Robert Wood Johnson Foundation, and the Steven and Alexandra Cohen Foundation, Mariah helped to design high-impact strategies (including many big bets), strengthen operations, set grantmaking priorities, determine impact targets, and identify potential grantees.
Mariah's nonprofit clients include Compass Working Capital, East Boston Neighborhood Health Center, Nurse-Family Partnership, and the National Council for Mental Wellbeing. With these clients, she has primarily focused on growth strategy and measurement. Mariah recently published an article on how Nonprofits can Incorporate Equity into their Measurement, Evaluation, and Learning.
Her impact investing clients include Texas Pacific Group's (TPG) Rise Fund—where Bridgespan partnered to develop and deliver rigorous, quantitative impact underwriting, as detailed in Harvard Business Review's "Calculating the Value of Impact Investing." Mariah has also explored opportunities for family offices and high-net-worth individuals to get involved in "impact-first" forms of impact investing in the article "Back to the Frontier: Investing that Puts Impact First."
Mariah has a longstanding interest in the social determinants of health and co-authored "The Community Cure for Health Care" for Stanford Social Innovation Review and "Why Big Health Systems are Investing in Community Health" for Harvard Business Review online as well as "With the ACA Under Fire, Can Health Conversion Foundations Patch the Safety Net for Low-Income Americans" in Health Affairs Grantwatch Blog.
Mariah holds a Master of Science degree from the T.H. Chan Harvard School of Public Health. She graduated Phi Beta Kappa and summa cum laude from Brandeis University where she studied health policy/public health and environmental studies. Mariah is a lifelong Massachusetts resident and lives in the Greater Boston area with her husband, three children, and goldendoodle.