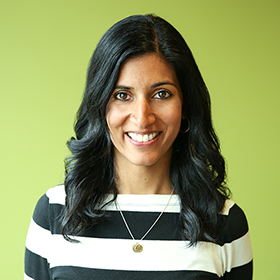 Meera Chary
Partner, San Francisco
---
What I care about: I love helping leaders be their best selves–through seeing their full potential and building their resilience. Over the last 20 years, I've worked alongside amazing leaders–from teachers and community leaders in Uganda, to nonprofit executive teams in Seattle–and had the fortune to learn from and with them about what allows leaders to live into their impact goals and dreams. I also care deeply about dismantling inequitable systems–and in particular ensuring that BIPOC leaders have the support and resources they need to thrive.
What I bring to this work: As the daughter of Indian immigrants, I was always taught about the power of setting ambitious goals and working hard to achieve them. I was also taught about the importance of helping others along this journey–just as many helped my family along our way. I spent my first years out of college as a community development worker in rural Africa, and saw these lessons born out again and again. In my work with nonprofit leaders at Bridgespan, I continue to see this and seek to live into it myself, both with my clients and my colleagues.
My favorite projects: I have worked with so many incredible nonprofit and philanthropic leaders at Bridgespan–and I can honestly say that I've learned from each engagement I've been a part of. Most recently, I've been humbled to be a part of the team that designed and created Bridgespan's Leadership Accelerator, which now supports hundreds of nonprofit organizations each year! I love that Bridgespan now has the opportunity to bring leadership supports to teams anywhere in the world through these online- and team-based programs.
My expertise: Leadership Development, Strategic Clarity, Adaptive Planning
What I do outside the office: I'm at MY best when I'm outside and working up a sweat – hiking an ocean trail, for example, or distance running around the Bay Area. My favorite companions are my husband and three sons, and you can often find all of us biking Oakland's various paths (where, increasingly, I'm in the rear). When I can manage to sit still, it's to eat something delicious, and ideally cooked from California's bounty of fresh fruits and veggies. I'm also a proud parent of Oakland Unified School District students, and serve on the board of Fresh Lifelines for Youth.
Education: I have a BS in mechanical engineering from UC Berkeley and an MBA from the Haas School of Business, UC Berkeley.
Publications: