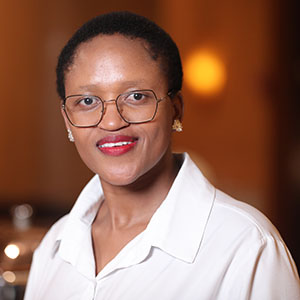 Ntefeleng Nene
Partner, Johannesburg
---
Ntefeleng Nene is a partner at Bridgespan Africa based in Johannesburg. She serves both philanthropy and nonprofit sectors with keen interest in organizations that are driving Africa's development agenda. She has expertise across a number of development areas and industries with a particular interest on the intersection of public health, sexual reproductive health rights and gender equity. She is passionate about working with leaders on organizational strengthening as well as leadership development.
Prior to joining Bridgespan, Ntefeleng was responsible for leading the social impact practice of Accenture in Africa (Accenture Development Partnerships/ADP). Her responsibilities included elevating Accenture's social impact agenda across the African continent. She chaired Accenture Development Partnerships' global Diversity, Equity and Inclusion Working Group. Before taking on the role to lead ADP, she worked in Accenture South Africa's Health and Public Services business unit responsible for growing the public health business.
Ntefeleng also worked for Management Sciences for Health (MSH) and FHI360 where she focused on providing technical assistance and organizational strengthening for non-profit organizations across Africa. Her work at MSH led to her co-authoring a Technical Report: South Africa Pharmaceutical Leadership Development Program and providing technical assistance on governance to the South African National Department of Health: Affordable Medicines Directorate. As part of this role she contributed to Developing Better Terms of Reference to Improve the Performance of Pharmaceutical Sector Committees: Case Studies from SA.
She graduated from the University of Durban-Westville with a BA in Social Work and from University of KwaZulu Natal with a Masters in Public Health Law.