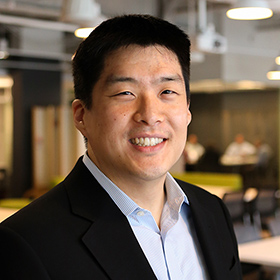 Peter Kim
Partner and Chief People & Culture Officer, San Francisco
---
Peter Kim is a partner in The Bridgespan Group's San Francisco office and chief people & culture officer. Peter also co-leads Bridgespan's racial equity strategy. He was formerly Bridgespan's chief learning & innovation officer.

Previously, Peter advised leading nonprofit organizations and philanthropic funders on a wide range of issues including growth planning, funding strategies, organizational effectiveness, and program alignment. Peter's clients include Harlem Children's Zone, Echoing Green, the Bill and Melinda Gates Foundation, Omidyar Network, and Rockefeller Foundation.
Peter also guides much of the firm's research on issues related to racial equity and nonprofit funding, writing and speaking nationally. He is the co-author of "Ten Nonprofit Funding Models," which was recognized as the Stanford Social Innovation Review's most widely read article of 2009. He is also the author of "Finding Your Funding Model" (Stanford Social Innovation Review, 2011), "Why More Nonprofits Are Getting Bigger" (Stanford Social Innovation Review, 2012) and "From Small to Scale" (Nonprofit Quarterly, 2012). His most recent publications include: "Unlocking Social Progress by Addressing Structural Racism," in collaboration with the Racial Equity Institute (Bridgespan.org, 2022); and in a joint research project with Echoing Green he co-authored: "Overcoming the Racial Bias in Philanthropic Funding" (Stanford Social Innovation Review, 2020) and "Racial Equity and Philanthropy: Disparities in Funding for Leaders of Color Leave Impact on the Table" (Bridgespan, 2020).
Prior to joining Bridgespan, Peter worked at Goldman Sachs. He earned his undergraduate degree at the Woodrow Wilson School of Public and International Affairs at Princeton University and a master in public policy at Harvard University.