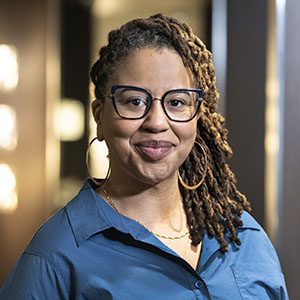 Raël Nelson James
Partner and Head of Equity, Boston
---
Raël Nelson James returns to The Bridgespan Group after previously serving as the senior director of diversity, equity, and inclusion at The Bridgespan Group for five years, having left in early 2021 to pursue a COO role at GirlTrek. In her prior role at Bridgespan, she led Bridgespan's commitment to being a firm that reflects the diversity of our clients and their beneficiaries in ways that we believe will translate into deeper relationships, engagement, and insights. She also co-managed Bridgespan's focus on racial equity by supporting us becoming an organization at which all staff and management understand the role of race and racism, how they intersect with our work, and helping each of us feel equipped to apply this understanding to our engagements and organizational culture.

Raël has nearly 15 years of experience building and facilitating diversity programs; board recruiting; public speaking; leading organizational growth; fundraising; managing programs; planning events; and successfully cultivating and managing relationships.

Prior to Bridgespan, Raël was director of recruiting and diversity at Charter Board Partners (CBP), a DC-based company that works to make sure that all kids have access to an excellent school by partnering with charter school boards to offer candidate recruiting and matching as well as personalized coaching; strategic tools and resources; and networking and training opportunities to board chairs, school leaders, and board members. At CBP, Raël facilitated nearly 65 local professionals joining charter school boards. She also directed CBP's commitment to diversify charter school boards and to serve as an organizational model for diversity and inclusion in the charter sector. During her tenure, nearly half of the professionals who joined boards through the CBP network were Black and Latino.

Raël was the first-ever executive director of LIFT-DC, where she expanded the antipoverty organization into the District's bilingual communities and east of the Anacostia River. Raël managed KIPP DC's foundation and corporate relations and served as the program director at Operation Understanding DC, a leadership development and dialogue program for Black and Jewish high school students.

Raël is the chair of the board of the Social Justice School, an EL Education Public charter school in Washington, DC. She is a native Washingtonian who holds a bachelor's degree in political science from Tufts University.