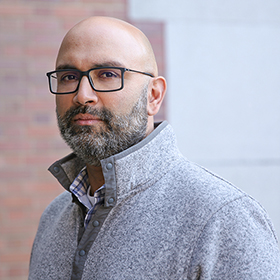 Rohit Menezes
Partner, San Francisco
---
What I care about: I want to help build a vibrant civil society, reinforced by dynamic leaders, community-led nonprofits, and justice-oriented philanthropists. I hope to do so with a clear eye on the structures that impede social and economic mobility.
What I bring to this work: I bring optimism: I believe that people are inherently good and are capable of amazing things when they work together. I bring curiosity: I seek to help leaders and organizations frame and explore the critical issues they face. I bring companionship: I aim to serve as a valued fellow traveler to change-makers as they navigate difficult questions and make hard choices.
My favorite projects: Working with Harlem Children's Zone on organization and program strategy. Supporting the Tata Trusts to take stock of its work in rural livelihoods. Studying, alongside Mauricio Lim Miller, the power of individuals and families to lead their own change.
My expertise: In my 11+ years Bridgespan I have worked across numerous domains from K-12 education to women & girls. Three subjects in particular have attracted a good portion of my attention: place-based change, postsecondary success, and India (in general).
What I do outside the office: When I am not rooting for my beloved New York Yankees, I spend as much of my free time as possible exploring the Bay Area with my wife, Vanessa Southern, and our teenage daughter.

Education: I have a BA in Philosophy and Political Science from Williams College, and an MBA in Strategy and Marketing from the Wharton School at the University of Pennsylvania.

Publications: