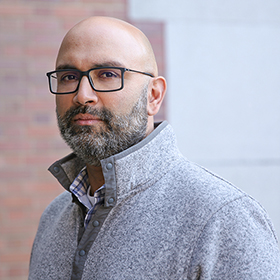 Rohit Menezes
Partner, San Francisco
---
Rohit Menezes is a partner in Bridgespan's San Francisco office. Through his work, he hopes to help build a vibrant civil society reinforced by dynamic leaders, community-led nonprofits, and justice-oriented philanthropists.
Over the last 15+ years at Bridgespan, Rohit has served as an advisor to a wide range of nonprofits/NGOs and foundations in the United States and India on strategy and operations. Rohit has often led client and knowledge-generating work on topics related to community, including on place-based change, peer-driven change, and effective community-based multi-service organizations. Select clients include Harlem Children's Zone, UpTogether, St. Anthony's Foundation, The Bail Project, Skoll Foundation, and Tata Trusts. Rohit has a particular interest in and commitment to supporting Native American sovereignty and has led much of Bridgespan's work with Native-serving and Native-led organizations.
From 2015-2017, Rohit served as the Founding Partner of Bridgespan's Mumbai office.
Rohit has co-authored a range of Bridgespan publications including "When Peers Work Together to Drive Social Change," "Why Indian Nonprofits Are Experts at Scaling Up," and "Next Generation Community Revitalization."
Prior to Bridgespan, Rohit had experience as a corporate management consultant at Boston Consulting Group, a telecommunications consultant, and a crisis communicator. He also co-founded a telecommunications start-up.
Rohit has a B.A. from Williams College and an M.B.A. from The Wharton School, University of Pennsylvania. He has Board experience with Avaya Global Connect (public, for-profit), Safe Horizon (nonprofit), Unitarian Universalist Service Committee (nonprofit), and Rachael's Women's Center (nonprofit).