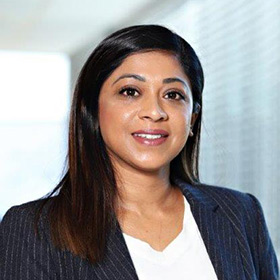 Sashika Naidoo
Manager, Johannesburg
---
Sashika is a manager in our Johannesburg office and serves philanthropists and leading foundations within Africa by helping them leverage their resources to support populations most in need. Prior to joining Bridgespan, Sashika worked for more than 15 years in management consulting, focusing on solving client problems in both the strategy and operations space.
Previously, Sashika led the quality and risk management portfolio within the Core Business Operations of Deloitte Consulting Africa, managing business risk and delivery excellence by embedding risk, quality, and performance frameworks for pursuing and delivering client projects. Some of the countries she worked with in that time include Botswana, Mozambique, Namibia, Nigeria, and Kenya.
Sashika also served as a manager in Deloitte Consulting's Strategy Services. She collaborated with a multitude of public and private sector clients across various industries to redesign their business strategies and implement strategic projects and programs.
Her key areas of expertise include strategic planning and execution, operational improvements and efficiencies, business process management, business performance improvement, facilitation of client labs and strategy sessions, and enterprise and supplier development.
Sashika graduated from the University of KwaZulu-Natal with a Bachelor of Science Honors in Chemical Engineering and from the University of Pretoria with a Certification in Project Management.